CD Review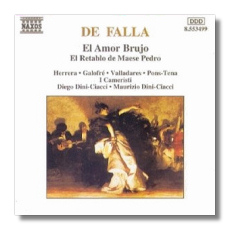 Stage Works
El Amor Brujo *
El Retablo de Maese Pedro
* Nancy Fabiola Herrera, mezzo-soprano
Jordi Galofr&eacute, tenor
Natacha Valladares, soprano
Ismael Pons-Tena, baritone
* I Cameristi/Diego Dini-Ciaci
I Cameristi/Maurizio Dini-Ciacci
Naxos 8.553499
Summary for the busy executive: Clear in Amor; in the Retablo, fanciful, even chimerical, despite a shaky start.
Falla's music ranges from a genteel, not quite mature Ibérianism grafted on to Chopin, to a full-blooded nationalism mixed with Debussy, and finally to his invention of Spanish modernism, inspired by Stravinsky's transfigurations of Russian folk song. The works here represent his last two periods. El Amor Brujo - or rather the "Ritual Fire Dance" excerpt - became probably his biggest hit, arranged every which way. To me, people should be clamoring for his music and companies should be rushing to record it, more than they apparently do. Its blazing color attracts instantly, and the melancholy deeps beneath hold the listener. I can assume only that many people haven't heard it. Falla's music taps into the strength of Spanish folk music and dance.
Falla originally wrote El Amor Brujo as a ballet, with singer and speakers. Large sections of melodrama (spoken word against musical underscore) provide the narrative exposition. My Spanish never was all that great, but the text by Gregorio Martínez Sierra strikes me as very fine indeed. Later, Falla turned the work into a concert piece for mezzo and large orchestra, jettisoning all of the spoken text, but keeping some of its musical background. Most people know the final version and so may be surprised by this one, for essentially a small theater orchestra. The powerful climaxes of a full orchestra give way to ensemble clarity and the invention of precise, beautiful sounds. My favorite performance of the final version remains Fritz Reiner and Leontyne Price with the Chicago Symphony Orchestra (RCA 09026-62586-2), one of Price's greatest and a landmark of the stereo era. As far as I know, Naxos has the only available recording of the original.
The throbbing chords of the opening - like a fortissimo strum on a giant flamenco guitar – function as a kind of wake-up, immediately grabbing the listener's attention. Here, however, the chords aren't rhythmically delineated and thus the hook gets lost. Nancy Fabiola Herrera has made this piece somewhat of a specialty - she's recorded it more than once - and she is quite good. But as a soprano with an extended lower range, Price has a tremendous advantage over her and most other mezzos. She can use her chest tones practically throughout, thus achieving the throaty, raspy duende of the Spanish gypsy singer. As I say, it's one of the greatest recordings of a major singer. Herrera or just about anyone else, in comparison, sounds more refined. The "Ritual Fire Dance" ("Danza del fin del dia") lacks the incisiveness of Reiner's reading, and the horns, compared to the Chicago section, sound a trifle harsh. However, Dini-Ciacci's account has plenty of excitement on its own, and the quieter moments are more delicate, more tender than Reiner's, especially in the "Romance del pescador" section.
El Amor Brujo comes over as the Spanish flag waving in the hot sun, and Falla waves the flag. El Retablo de Maese Pedro (Master Peter's Puppet Show), on the other hand, offers a less "Spanish" surface (ie, Spanish gypsy or gitano; what we tend to think of as Spanish), in terms of its themes and rhythms, and yet it paradoxically becomes more profoundly Spanish. I believe it one of the greatest works of the century - certainly one of Falla's considerable bests. The story is an almost slapstick episode from Don Quixote. The Don attends a puppet play about the rescue of a fair lady by a knight and gets so caught up in the events of the play, that he thinks their puppet antagonists are real. So he lays into them with his sword. The action resembles many a vaudeville act - where a performer is continually interrupted by a drunk or heckler, until it becomes clear that the drunk is the focus of the act. Apparently they were doing shtick like this as far back as 1605. In Falla's adaptation, every character is represented by a life-sized puppet, with the actual puppets normal marionettes. How the original producers actually staged this, I have no idea. Where's Jim Henson now that we need him?
The original Quixote episode adds up to little more than slapstick, and it's a bit odd that Falla should have picked this one over others. The ways of genius run strange, I suppose, because Falla's music captures in little the essence of Cervantes's masterpiece. It also gives back the curiously simultaneous ties of Cervantes to both Spain and Europe in general. If the guitar pervades El Amor, the sound of shawms, pipes, tabors, and bells dominate El Retablo, with Falla following a miniscule suggestion in the text about the nature of Moorish music. The Crusades, of course, spread Moorish musical influence throughout Europe, with dances like the moresco, a new emphasis on percussion, and a new type of cantando. Falla re-imagines this music and, in so doing, forges links across centuries to one of the great European cultural movements. Furthermore, Falla's orchestration, if anything, improved throughout his career, and this is music conceived for chamber ensemble, rather than straitened by production necessity. The Cameristi don't have to make a special case, as they must, to some extent, in El Amor. The first instrumental number, "Sinfonia de Maese Pedro," starts off a bit ragged rhythmically with slack articulation, but it soon finds the groove, with its wicked tempo switches suavely handled.
For the most part, Falla creates music of delicate fantasy - fairy-tale music - as in "La Corte de Carlo Magno," where we seem to be looking at tiny castles of beautifully-colored glass. A puppet play, of course, distances us by scale, and yet the exquisiteness of the scale enchants us. Nevertheless, if El Retablo offered us only that, it would remain supremely beautiful, but not profound. We would have no human connection with it. It would be like eavesdropping on the people under the hill. It is in the finale, with Don Quixote's apostrophe of chivalry, that the work becomes monumental and penetrating. I find none of this affect in Cervantes's actual words, which seem to me like more of the Don's manic hyperbole. The depths to me come entirely from Falla's music, which stresses the bedrock nobility of Quixote's mind, even under delusion. For what I want the music to do, I doubt any singer could satisfy me (well, maybe James Morris), but Ismael Pons-Tena, even if a bit light, does well enough.
Recorded sound is clear, if a trifle bright.
Copyright © 1997, Steve Schwartz