CD Review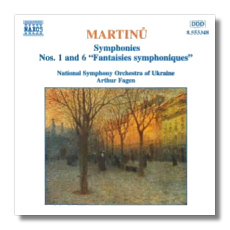 Symphonies #1 & 6
Symphony #1 (1942)
Symphony #6 "Fantasies symphoniques" (1953)
National Symphony Orchestra of Ukraine/Arthur Fagen
Naxos 8.553348
It was with great anticipation that I opened this disc when it arrived. Martinů is my favorite composer and I was hoping that this disc would herald an inexpensive way to at least sample what Martinů's sound world is all about. A previous release of some of Martinů's chamber music on Naxos was a hit, not only with me, but also given three stars in the Penguin Year Book: 1997/98. Repeated listenings and comparisons, however, of this latest release bring to mind the phrase that the excellent is the enemy of the good.
This is a 'good' recording of the Martinů Symphonies. You will not be disappointed if you add this disc to your collection. I would recommend it over the mundane Thomson recordings, also on Chandos mainly because the Naxos is so much cheaper for a similar interpretation. It is an inexpensive offering and you will 'sample' the sound world of Martinů. Once you have experienced this, however, you may want to add the same pieces on Chandos with Bĕlohlávek conducting the Czech Philharmonic (#1 coupled with other Martinů works on 8950, #6 on 8897 with the finest Janáček "Sinfonietta" I have heard and a wonderful Suk "Fantasticke Scherzo"). The rub is that on Chandos the symphonies are on two, separate discs and at premium price. That is, around $30.00 compared to $5.00. There's the economics.
The Chandos discs (and God, why don't they finish the cycle????? I ought to email them…did Belholavek's departure from the Czech Philharmonic end the project?) are much better recorded and performed. Listen to the phrasing, the solos and how the melodic ideas blend seamlessly in contrast with the Ukrainian orchestra. The Czech Philharmonic play as coming from inside this sound world, a sense lacking in the Ukrainian Orchestra.
I thought I'd share a detail about the "Fantaisies symphoniques" I came across while researching it in Michael Steinberg's book, The Symphony. It was while looking at some Berlioz scores with students at Princeton, in 1950, that one of them suggested Martinů write "Nouvelle Symphonie fantastique". This he did and it evolved, six years later, into this truly 'fantastique" symphony. You'll never hear anything like it again.
All in all, then, the teacher in me comes to the fore. In grading papers I know the difference between an A and a B. The Naxos disc is a B. Not bad, but not an A.
Post Script: I was wondering if I might have reacted differently had I not heard the Chandos discs. On the other hand, that's a counter-factual condition. So, I did the next best thing, I gave the disc to some friends of mine. Bill and Mary Ann are also lovers of classical music, but did not have any Martinů in their collection. I did not tell them about my review. After giving them a couple days to listen to it, I called. They were delighted with the disc and particularly liked the wonderful sound. So, there you go. I quote myself, this is a good recording, you will not be disappointed if it is your introduction to the sound world of Martinů.
Copyright © 1998, Robert Stumpf II