CD Review
Mili Balakirev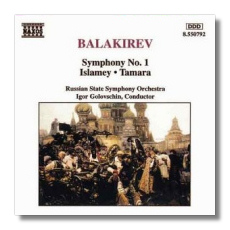 Symphonies & Tone Poems
Symphony #1 in C Major (1897)
Tone Poem "Islamey" on Oriental Themes (1869)
Tone Poem "Tamara" (1882)
Russian State Symphony Orchestra/Igor Golovschin
Naxos 8.550792 DDD 1993 74:55

Symphony #2 in D minor (1908)
Tone Poem "Russia" (1864)
Russian State Symphony Orchestra/Igor Golovschin
Naxos 8.550793 DDD 1993 53:30
Russian conductor Evgeny Svetlanov has recorded the symphonies of Mili Balakirev (1837-1910) at least twice (with the USSR Symphony first and more recently with the Philharmonia), but these new recordings featuring his orchestra, the State Symphony of Russia, are directed by assistant conductor Igor Golovschin. Golovschin seems to have a very steady baton, which keeps late Romantic excesses to a minimum, making for tidy and clean, if less than all-out exciting, music-making for these new Naxos discs.
Balakirev was reportedly an obstinate person, and disinterested in forward musical trends. It shows in his music, which, instead of seeking new directions, harks back to the glories of Glinka and Borodin. It is amazing to consider that Stravinsky's Firebird and Rite of Spring were created only a few short years after Balakirev's Second Symphony. Though I'd read of Balakirev's place in Russian music history, and probably had heard the symphonies before but couldn't recall anything about them, the time was obviously right to acquaint myself with the composer.
Balakirev constructed his symphonies in the traditional four movements, though placing the scherzos second instead of third in movement sequence. Total length of each symphony is roughly forty minutes. The orchestration is typical of the Russians, with a characteristic fluidity to the woodwinds and raspiness to the brass. Folk melody seems to have been Balakirev's creative springboard, and lack of terribly interesting ways to develop these themes one of the main weaknesses to the symphonies. The ideas are just not as bold nor as interesting as those of other symphonists of the same period (ie: Dvořák and Tchaikovsky).
The tone poems are occasionally quite long, though not devoid of charm. Their exotic and interesting subjects allowed the compo-ser to break free a bit in language and rhetoric compared to the symphonies. Islamey, originally for piano solo, was orchestrated by Balakirev pupil and adherent, Sergei Liapunov, and works well. But, again, in comparison with the well-known works of Rimsky-Korsakov, Mussorgsky, Borodin and others, the tone poems of Balakirev are not as inspired.
I don't want to convey an overall negative impression, though. The music is pleasant, and is well played and recorded. Certainly at the budget price, these recordings deserve to be heard and can be recom-mended to the curious, and thank you, Naxos. Perhaps the reader's reaction to this composer will be more enthusiastic than mine was. A request to Naxos: please record the first and second symphonies of Russian composer Vasily Kallinikov – its better music! (Note: Naxos apparently had this in mind. Naxos 8.553417 has now been released, and contains the Kallinikov).
Copyright © 1996, Peter S. Murano