CD Review
Albert William Ketèlbey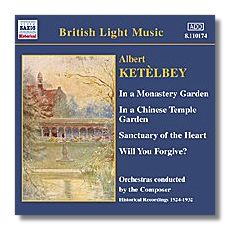 Orchestral and Piano Works
In a Monastery Garden
Chal Romano
The Phantom Melody
By the Blue Hawaiian Waters
Three Fanciful Sketches
In a Chinese Temple Garden
Will You Forgive?
In the Moonlight
The Clock and the Dresden Figures
Sanctuary of the Heart
Various performers including the composer as conductor and pianist
Naxos 8.110174 ADD monaural 59:02
In the mid-20th century, the United States had Leroy Anderson, who perhaps is best known for The Syncopated Clock. Before then, England had Eric Coates and Albert William Ketèlbey. All three composed light classical music that could be adored by listeners at all levels of sophistication, and – is there any connection between these two facts? – their music is regarded as old-fashioned today. (Nor does it "travel" particularly well, although there are Britons who love Anderson and Americans who love Coates and Ketèlbey.) There's absolutely nothing wrong with old-fashioned candies, however, and light classics like these still can raise an affectionate smile in the most unexpected places. Ketèlbey's sweets taste more of "camp" than Coates's or Anderson's, but his tuneful, sentimental "tone pictures" and the like are easily digested, and they speak of far more innocent times than ours.
Ketèlbey was born in Aston, Birmingham in 1875, studied music at London's Trinity College, and waffled between a career in serious classical music and the musical theater for some years before finally settling on the latter. Already a prominent arranger of music for salon orchestras by 1900, his own compositions took a progressively more important role in his career. By the 1920s, he was named "Britain's Most Popular Composer." He died in 1959. By then, his music was regarded by many as passé, and yet it continues to live on.
He probably made his first recordings in 1907. The selections included here are "creator recordings" in the sense that the composer conducts most of them. (He plays the piano in The Phantom Melody, and also – most sparklingly – in the concertante Clock and Dresden Figures.) The earliest, and the only acoustic recording in this collection, is Will You Forgive? from 1924. The rest come from the later 20s and the early 30s. I've known Ketèlbey's music since I was ten years old, but this is the first time I've heard "authentic" recordings of it. These performances, unfiltered through the screen of irony, present his music with its unashamed, honest sentiment and childlike innocence intact. Many Ketèlbey favorites are included here. (I assume In a Persian Market will be released in a second volume.) Along the way, you'll hear the fabulously popular Australian bass-baritone Peter Dawson boom out In a Monastery Garden, and a classically English alto (unidentified!) project Sanctuary of the Heart with the solemn intimacy of a foghorn!
Producer Peter Dempsey, who also wrote the booklet notes, did the audio restorations from original Columbia and HMV discs. The sound is not excessively filtered, and so the sometime surprising richness of old 78-rpm discs is allowed to come through. Granted, this is not modern stereophonic sound (to say nothing of digital), but the music and the performances overcome the medium. Great fun!
Copyright © 2001, Raymond Tuttle