CD Review
Eric Coates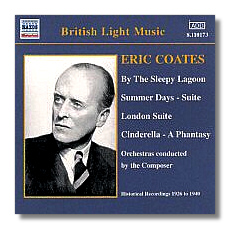 Orchestral Works
By the Sleepy Lagoon
Summer Days
Wood Nymphs
The Jester at the Wedding: March; Valse
Symphonic Rhapsody on "I Pitch My Lonely Caravan"
Symphonic Rhapsody on "I Heard You Singing" and "Bird Songs at Eventide"
London Suite
Sunday Afternoon
Cinderella
London Bridge
Symphony Orchestra; Queen's Hall Light Orchestra/Eric Coates
Naxos 8.110173 ADD monaural 59:53
The light music of Eric Coates (1886-1957) can be enjoyed by anyone, but it has a special resonance for the generations of English men and women who came of age between the two World Wars. Coates's most popular music – and many of his most popular numbers are included here – is synonymous with everything else that makes England great, including Colman's mustard and punting down the Thames.
Coates was born in a mining town. His father was a doctor, and his mother played the piano. His musical inclinations soon became apparent, and at 20, he entered the London Royal Academy to study viola and composition. He earned money playing the viola in theater orchestras, no doubt honing his understanding of what made a good tune popular, and what made a popular tune good.
He had a few songwriting successes as a young man, but he didn't make composition a central wage-earning activity until 1919, when neuritis made it difficult for him to continue playing the viola professionally. From that point on, Coates wrote one light music hit after another. People sitting by their radios have been happy ever since.
Recordings of Coates's music are far from uncommon, and they have been good, bad, and indifferent. Hearing the composer's own recordings is a treat, and – it goes without saying – of historical value. Coates was a good conductor. He elicited spirited yet detailed playing from the various orchestras that he led, and he never let his mellower numbers (such as the evergreen By the Sleepy Lagoon) lapse into mawkish sentimentality. Coates provided first-class entertainment for the masses, whether he was holding a pen or a baton, yet his music never seems condescending or calculating.
These recordings have been selected and prepared for CD by producer Peter Dempsey. The original materials are Columbia shellacs recorded between 1926 and 1940. The later sides still produce a particularly rich sound, and I was surprised by the depth and detail of the bass in 78-rpm records that are, after all, more than 60 years old. The presence of surface noise is not at all bothersome. If anything, it adds atmosphere.
The words "Volume 1," though not prominent, suggest that there is more Coates to come. Naxos Historical recently released a similar collection of light music by Albert Ketèlbey in vintage recordings.
Copyright © 2001, Raymond Tuttle