CD Review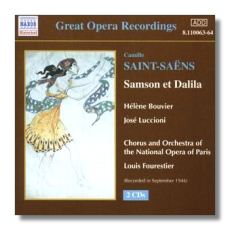 Samson et Dalila
Samson et Dalila
Arias from:
Polyeucte
Roméo et Juliette
Carmen
Hérodiade
Manon
Hélène Bouvier (Dalila)
José Luccioni (Samson)
Paul Cabanel (High Priest of Dagon)
Charles Cambon (Abimélech)
Orchestra & Chorus of the National Opera of Paris/Louis Fourestier
Orchestra conducted by Eugène Bigot (arias)
Naxos Historical 8.110063-64 ADD monaural 2CDs: 70:03, 71:46
Non-Italians sing Italian opera without risking looks of unusual suspicion; non-Germans do the same with German opera (but not operetta!). Why is it, then, that a non-French singer is more in danger of criticism when he or she sings French opera? "Good singing," the critics write, "but So-and-so lacks the requisite French style."
Samson et Dalila has had its share of recordings, but when I think back on the singers who essayed the title roles, few French names come to mind. (Several Spanish names do, however, particularly on the male side.) Here's a recording – and it was the opera's first complete one – that is French all the way through. (José Luccioni, in case you are doubtful, was born in Corsica, and he studied at the Paris Conservatoire.) Does it make a difference? I think so. The two main characters actually seem to be interacting here, rather than merely throwing rhetoric at each other, and Ferdinand Lemaire's libretto is revealed to have palpably dramatic qualities after all.
Bouvier and Luccioni are excellent singers. Perhaps they are not "stars" like Risë Stevens and Ramon Vinay, but they are totally inside of their roles on this recording. Luccioni sings with a mixture of heroism and vulnerability; his tone trumpets but never blares. Bouvier, an under-recorded singer, does not make Dalila's seduction of Samson an episode of bovine ridiculousness. Instead, she is warm and sexy and very chic. Her singing of "Mon coeur s'ouvre a ta voix" is both a highlight and a point of culmination. She is erotically persuasive here, and one can hardly blame Samson for giving in. Both of them have excellent diction and vocal acting skills; you'll hardly need a libretto to follow the action on this recording. Fourestier does nothing unusual, but he conducts with immense understanding and taste, and the other singers and musicians match the high standards set by Bouvier and Luccioni.
This Samson et Dalila was recorded by Pathé in the Théâtre des Champs-Elysées in September 1946. The result for buyers was 15 shellac discs – not to be carried home on your bicycle, s'il vous plait!
The bonus at the end of the second disc is a set of five arias sung by Luccioni. Carmen's "Flower Song" was recorded in 1936; "Ah! Fuyez" from Manon and "Ne pouvant réprimer" from Hérodiade were recorded in the following year. The Gounod arias (the "Stances" from Polyeucte and "Ah! Lève-toi, soleil!" from Roméo) were recorded in June 1946, just a few months before the Samson sessions. Luccioni is no less impressive here. This is red-blooded singing, and quite worthy to compare and contrast with that of Georges Thill.
Ward Marston produced these CDs and effected the transfers from 78-rpms. As usual, he has done an excellent job of correcting faults in the source materials without removing any of the music. He had two challenges here. One was that the pitch varied from the start to the end of the sides, a common fault earlier in the 78-rpm era, but a rather unusual one at this late recording date. The other was overloading in the opera's climaxes; Marston has minimized this by filtering and equalization. I'm happy with the results. Marston was fortunate to be working from three (!) mint condition sets of original Samson pressings. What's in your closet?
There is no libretto. Naxos does offer a synopsis, however.
Copyright © 2001, Raymond Tuttle