SACD Review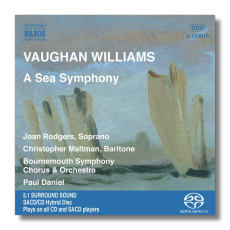 A Sea Symphony
Joan Rogers, soprano
Christopher Maltman, baritone
Bournemouth Symphony Orchestra & Chorus/Paul Daniel
Naxos 6.110016 Hybrid Multichannel SACD
Vaughan Williams must be ranked among the finest symphonists of the 20th century. Certainly, despite recent – and I believe temporary – trends, he will be counted in the company of Sibelius and Shostakovich here. Without doubt, he was more consistent than Shostakovich, whose politically obsequious Symphonies 2, 3, 7, 11 and 12 are spotty, mediocre compositions, especially the Twelfth. No works in the Vaughan Williams canon can be judged so weak, but his only choral symphony, A Sea Symphony, is arguably his least effective, his most flawed, despite its grandeur and epic character. That said, it is compelling and full of inspired music: even the lengthy outer movements, the panels most vulnerable to criticism because of their rambling nature, are moving and brimming with drama and colorful writing, both orchestrally and vocally.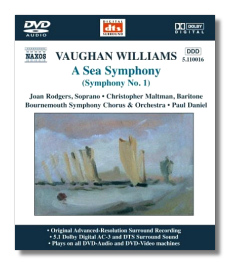 The inner movements, subtitled On the Beach at Night Alone and The Waves, are masterstrokes, foreshadowing so much of the darker and more menacing music in Vaughan Williams' later symphonies. Funny, but do I hear strains of Rachmaninoff's The Bells in the third movement Scherzo here? It would seem so, but Vaughan Williams completed this work in 1909, while Rachmaninoff's more famous choral effort would not appear until four years later. Who influenced whom? The similarities are probably coincidental, but interesting to observe, nevertheless.
What's also interesting here is the approach of conductor Paul Daniel. I had nothing but praise for him in my review of his Vaughan Williams Symphony #4 earlier this year, and once again he shows himself to be a consummate Vaughan Williams interpreter. His tempos are slightly on the brisk side here, a generally good trait though, and his orchestral and choral forces are fully up to the demands of this massive score. Some may object to his slightly hasty treatment of the return of the big theme from the first movement introduction, sung by Joan Rogers here. But overall he makes a good case for his approach, though the more Romantic Previn is unsurpassed here. In the end, I would rank this Naxos effort among the better renditions of the score, along with the classic Previn on RCA and the second Boult, on EMI.
Baritone Christopher Maltman and Rogers turn in fine work, and Naxos provides good sound and fine notes by Richard Whitehouse. Recommended to Vaughan Williams enthusiasts and listeners willing to sample something out of the post-Romantic ordinary.
Copyright © 2005, Robert Cummings