DVD-Audio Review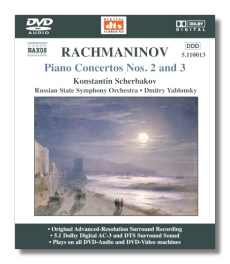 Piano Concertos
Piano Concerto #2 in C minor, Op. 18
Piano Concerto #3 in D minor, Op. 30
Konstantin Scherbakov, piano
Russian State Symphony Orchestra/Dmitry Yablonsky
Naxos 5.110013 DVD-Audio Dolby Digital, DTS
First of all, this is a DVD in sound only, not an aural/visual account of a live concert. That said, let me turn to the works at hand here. For decades the Rachmaninoff Second was the most popular piano concerto after the Tchaikovsky First. It has in recent years, however, been eclipsed by the Rachmaninoff Third, a work more dramatic, more virtuosic, more imaginative, but, alas, ultimately inferior. I say this even though I would rather listen to or attend a performance of the Third. The later concerto is, let's face it, a flawed composition, but a tremendously moving one nevertheless, shackled by a rambling structure and lacking a definitive version, among the several the composer allowed to exist. Rachmaninoff made numerous cuts in the score and provided alternate cadenzas for the first movement, in the end leaving us with a work that exists in probably a good half-dozen versions or more.
The Third is thus the more difficult of the two concertos to bring off, not least because of its enormous technical demands. Here, Scherbakov is technically up to the task, but interpretively a bit tame in his approach, his tempos tending toward the slow side. Moreover, the slightly recessed piano sound provided him underscores his generally low-key approach. In the end, one must assess this as a good effort, but surpassed by numerous others, including Janis/Kondrashin (Mercury), Cliburn/Kondrashin (RCA), Mogilevsky/Kondrashin (Melodiya), Horowitz/Coates, Horowitz/Reiner, and several others. For the record, Scherbakov plays the lighter and, I think, better of the two cadenzas in the first movement.
But Scherbakov's Second is somewhat better, even if he is a bit reticent in the faster sections of the finale. I prefer the Rubinstein/Wallenstein on RCA, from the late 1950s, and several others (Janis/Doráti on Mercury; Glemser/Wit on Naxos), but this one is still quite good on its own, catching Rachmaninoff's heart-on-sleeve Romanticism in a fairly lean performance – any pianist who drags the tempos in this concerto generally flirts with disaster, especially in the Adagio second movement.
Yablonsky's conducting could be livelier in the Third, though his effort in the Second is more than adequate, and his orchestra seems to respond well to his baton in both works. Notes are fine and the sound is decent, though, as noted above, the piano's sonics are a bit recessed.
Copyright © 2004, Robert Cummings