Blu-ray Review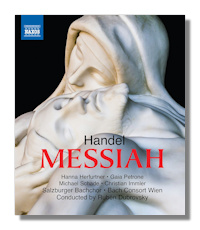 Messiah
Hanna Herfurtner, soprano
Gaia Petrone, alto
Michael Schade, tenor
Christian Immler, bass
Salzburger Bachchor/Alois Glassner
Bach Consort Wien/Rubén Dubrovsky
Recorded Live March 19, 2016 at the Basilica Stift Klosterneuburg, Lower Austria
Naxos Blu-ray NBD0061 2:05:00 PCM Stereo DTS-HD 5.1
This live performance appears to have also been issued a few months back on the Gramola label, but in CD format only. Naxos has made it available on both Blu-ray and DVD and I must say I'm not surprised that more than one label would be interested in releasing this performance, as it is quite fine. The competition in Messiah is quite thick as most readers know, and so it is always difficult to make absolute recommendations in a work that has garnered so much attention. That said, there appears to be little competition on video, a fact that might well give this recording special significance. This is a solid performance in just about every way and could probably stand comparison with many of the finest recordings of this work. It is that good, not least because it features perhaps one, and most probably two very promising young singers.
The young soprano Hanna Herfurtner seems to have everything going for her. Try her splendid Rejoice greatly, O daughter of Zion to sample not only her fine technique in handling the coloratura with such apparent ease but in her passionate sense for drama. Oh, and should I mention she has a most pleasing, beautiful voice? In short, she sings quite brilliantly and consistently throughout, and her diction is very precise without ever sounding fussy or pedantic. The young Italian mezzo Gaia Petrone may not match Ms. Herfurtner in clarity of diction (not that it's bad) but her singing is quite fine, her sense of expression very astute. In He was despised and rejected of men she conveys both a blunt and yet compassionate sense in delivering the text. I would say both these female singers may well have major careers in both opera and concert music.
As for their male counterparts here, I would judge they are not quite as effective, but still rather fine nevertheless. Michael Schade is the one enduring veteran and best known star in this cast and while he acquits himself well, he does not come across as convincingly as the others. He has a tendency to exaggerate certain aspects of ornamentation and the way he imparts drama to the text. But I must say he is fully committed and gives the performance his all. His voice is still good (he's in his early fifties) and he always sings with intelligence and an invigorating sense. Baritone Christian Immler also has a good voice and he displays subtlety and sharp instincts in his performances here. His The trumpet shall sound is very spirited and bright, making the best of what is to me an almost anticlimactic moment in this great score.
The Salzburger Bachchor sings with both energy and commitment throughout the performance and the Bach Consort Wien matches their effort with precise, spirited playing under the knowing hand of conductor Rubén Dubrovsky. He opts to deliver a lively though never rushed version of this masterpiece. Clearly, he knows the score inside and out and thus guides his singers and the chorus and orchestra with a vision of the score that focuses more on its brilliance and color than on its profundities and religiosity. And that is a perfectly valid take on this work.
One thing I must mention is the magnificence of the Basilica Stift Klosterneuburg, the site of this live recording. Its combination of angelic beauty and regal splendor just seem to fit this great music so well. The sound reproduction, camera work and picture clarity are all first rate. The two-hour-five-minute duration of this performance might suggest very fast tempo selections but some numbers are cut, about five, including If God be for us (for soprano) and the duet O death, where is thy sting? However, the excisions are acceptable, especially in a live performance, though some purists will scoff at the idea of cuts in general. There are some fine Messiahs on video by Hogwood and Cleobury, but they both use boys choirs – a drawback to me – and the former features some annoying camera work. Thus, this new one on Naxos is for now my all-around choice on video. Highly recommended!
Copyright © 2018, Robert Cummings