CD Review
Giacomo Carissimi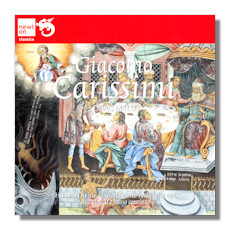 Dives Malus (Historia Divitis)
Angelo Ephrikian, violin
Complesso Barocco di Milano/Angelo Ephrikian
Newton Classics 8802151
This is a useful reissue of a very well preserved recording made in 1967 of Giacomo Carissimi's (1605-1674) oratorio for eight voices in two choirs with two violins and basso continuo, Historia divitis "Dives malus". It's a short work at under 40 minutes. And – given its age – this recording of greater interest as a historical document than an idiomatic rendition; it's redolent, for instance, of the way in which Nadia Boulanger performed the madrigals of Monteverdi.
Indeed, the affinities with Monteverdi are unmistakable. Carissimi has a recognizably similar harmonic originality, though not the same spirited rhythmical forward movement. It's also best to take this oratorio on its own terms and not compare it with other examples of the style and developments of choral music then prevalent. The music becomes all the more enjoyable in this dated performance.
Yet what this performance does show is just why Carissimi was so highly regarded throughout Europe during the seventeenth century. Based in Rome, he wrote particularly persuasively for combined voices, virtually inventing the sacred oratorio. He was less interested in (purely) instrumental music. At the same time he alluded to the new, and enduring, enthusiasm for drama: Historia divitis "Dives malus" is full of passion and insight. Only two of the 14 movements are longer than five minutes. But the scoring for voice and instrument combinations have some of the variety of the emerging dramatic style.
In common with many other of Carissimi's works, Historia divitis "Dives malus" advises against worldly pleasures in favor of spiritual ones. Yet there is little of the moralizing or didactic. Indeed the two sopranos, tenor, bass and continuo sing with a lightness and lyricism that make the work most enjoyable. The continuo's playing looks forward to what we might now think of as a more Handelian style of playing; and much more than merely supplementing the text.
The other quality which the Complesso Barocco di Milano under violinist, Angelo Ephrikian, bring to the fore is intensity. It was certainly Carissimi's concern to advocate a contained, rather than indulgent, life. But with music presumably new to the performers, it would have been all too easy to privilege color and demonic projection at the expense of subtlety. This is not what these players and singers do. And the performance is all the better for that.
The acoustic, as has been implied, does good service to a performance nearly 50 years old. It's mildly boxy and concentrated, to be sure. But the words are clear and the atmosphere of the work rich and satisfying. The two-page sheet that comes with the CD is minimal; it concentrates on Carissimi's historical context and has no texts etc. But it does list those performers involved in this landmark recording.
For just over three times as much you can get three dozen of Carissimi's oratorios and motets performed well by a variety of musicians more attuned with the idiom, conducted by Flavio Colusso on Brilliant Classics 94491. That would – for many people – be a preferred way to get to know the beautiful works of this important but neglected composer. Short though this Newton Classics CD is, it's an intriguing addition to the catalog. Expect an approach decidedly of its time and you won't be disappointed.
Copyright © 2014, Mark Sealey