CD Review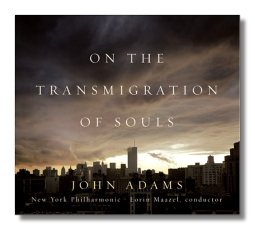 On The Transmigration Of Souls
New York Choral Artists/Joseph Flummerfelt
Brooklyn Youth Chorus/Diane Berkun
New York Philharmonic Orchestra/Lorin Maazel
Nonesuch 79816-2 DDD 25:05
Composer John Adams surely was the right man for this task. How does one focus and express a grief as powerful as that which held us following the events of September 11, 2001? On The Transmigration Of Souls, commissioned by the New York Philharmonic and Lincoln Center's Great Performers, succeeds because it so carefully avoids making a self-consciously Big Statement. Instead, Adams has composed a work that hearkens back not only to the events of that day, but to any tragedy – man-made or natural – in which scores of lives are unexpectedly and meaninglessly lost. There is no talk of God and no flag-waving, only a gaping space that those who remain behind try to fill, each in his or her own way.
Transmigration begins (and ends) with the street sounds on tape. It is just a normal day, these sounds seem to be telling us. Soon, however, the voice of a boy (also pre-recorded) is heard, repeating the word "Missing…" and we know that all is not as it first seemed. The meat of the work is given to utterances by the adult's and children's choruses, and to the pre-recorded voices of survivors, reading names of the missing, remembering, hoping against hope that their loved ones will be found and restored to them. (The "soundscape engineering" is by Mark Grey.) A solo trumpet makes us think of Charles Ives' The Unanswered Question, and the spirit of Ives floats over this work in other ways as well. (When the Lusitania was sunk in 1915, Ives caught the public's grief beautifully in the third section of his Orchestral Set #2, and it is eerie how Ives' and Adams's works seem to speak to each other over so many decades.) Transmigration is not a requiem – there is continuity but no consolation - and although it moves us to tears, it does so with reserve and dignity, not with hollow words and with false or sectarian promises. No doubt there are those who wanted this work to tell us that God had gathered these thousands of souls to His bosom, and that the flag of the United States still waves to honor these fallen heroes. Let it be for someone else to write that kind of work. This is the one that will continue to have meaning a century from now, just as Ives' work still has meaning almost a century later.
Will other orchestras dare to program Transmigration ? Even if they do, I suspect that this recording will remain the definitive one. It is beautifully engineered and presented, and it will be a document for the ages. I suppose one could complain about a CD barely 25 minutes in length, but really, what would it be appropriate to hear, immediately after this? Silence is the only appropriate response – not even applause. This CD was recorded in concert between September 19 and 24, 2002 in Lincoln Center.
Copyright © 2004, Raymond Tuttle