CD Review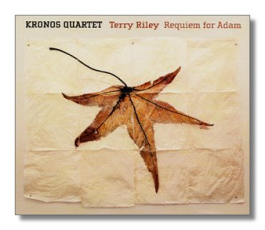 Requiem for Adam
Requiem for Adam
The Philosopher's Hand
Terry Riley, piano
Kronos Quartet
Nonesuch 79639-2 DDD 49:55
On Easter Sunday in 1995, 16-year-old Adam Harrington was walking with his family on Mt. Diablo in California when a blood clot lodged in his coronary artery, stopping his heart and killing him. More than four years later, Harrington's violinist father David found himself on the stage of the Concertgebouw in Amsterdam playing Terry Riley's Requiem for Adam with the other three members of the Kronos Quartet. Riley and the Kronos have a creative association that goes back more than twenty years. Requiem for Adam is the last of three so-called "Requiem quartets" written by Riley in response to the deaths of individuals who were close to Quartet members.
Requiem for Adam is in three movements: "Ascending the Heaven Ladder," "Cortejo Fúnebre en el Monte Diablo," and "Requiem for Adam." The first movement's contours, both its main motive and its overall shape, do suggest climbing. (Much the same could be said about the final movement of Beethoven's last piano sonata, which Riley's movement resembles in spiritual characteristics, if not physical ones.) The second movement begins with the sudden intrusion of shocking electronic sound. In this movement, the Quartet plays against a noisy electronic backing track that suggests horns and percussion. The electronics are jarring, perhaps even misplaced, but one must remember that this piece is a requiem for a 16-year-old boy, not a 65-year-old man. Riley writes that this funeral procession owes more to Dixieland than to Beethoven. The last movement is the longest of all, and also the most varied, with its moaning, siren-like glissandos, uneven rhythms, dancing that is both graceful and grave, and reminiscences of the opening movement. There's little about this work that is funereal in the usual sense, let alone sad. It seems to me that Riley acknowledges the human tragedy that prompted this Requiem, but that he also remains hopeful about its spiritual importance.
Requiem for Adam, partly because of its ambitiousness and its failure to adhere to traditional modes of mourning, has disappointed some listeners. Others, particularly in these weeks following the attacks on the World Trade Center and the Pentagon, welcome its less passionate but no less committed language. The disc ends with music that it is easier to wrap your ears around. The Philosopher's Hand, if I understand Riley's comments correctly, was improvised at the recording sessions devoted to Requiem for Adam. The title refers to Pandit Pran Nath, who died a year after Adam, and who took David Harrington's hand at Adam's funeral service. "David said that it was the softest hand he had ever held," writes Riley. Not even six minutes long, it seems to recede into a quiet and comforting infinity.
The performances are authoritative, the engineering is superb, and the packaging – beautiful photos of pressed leaves – is evocative. Riley's earlier work would be a better place to start for those who do not know his music, but this CD will offer much to the open-minded listener.
Copyright © 2001, Raymond Tuttle