Related Links
Recommended Links

Site News
CD Review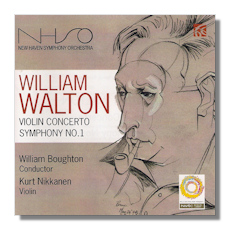 Violin Concerto
Symphony #1
Kurt Nikkanen, violin
New Haven Symphony Orchestra/William Boughton
Nimbus Alliance NI6119 79m DDD
Walton's First Symphony remains one of the most exciting works in the repertoire and from the time of its première recording (available on Dutton), it has always been hugely popular. This new Nimbus recording gains from the critical editions stored at the New Haven Library in Connecticut and as such we have a truly authentic version of the symphony's score.
William Boughton conducts with great purposefulness and force with the New Haven Symphony completely at one with his creative ideals. I also enjoyed reading the fastidiously detailed notes provided by Boughton himself and also by Richard Freed who analyzes the works almost surgically. The Violin Concerto has Kurt Nikkanen playing to the manner born and his version is now the best one when compared perhaps to Lydia Mordkovitch's now ageing but still excellent version on Chandos (CHAN9073).
Nimbus provides excellent sound in the Wollsey Hall at New Haven with the New Haven Symphony proving to be rather a revelation. One looks forward to further Walton releases from this source.
Copyright © 2010, Gerald Fenech