CD Review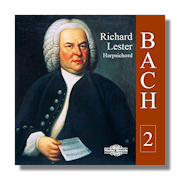 Works for Harpsichord, Volume 2
English Suite #3 in G minor, BWV 808
Prelude & Fugue #7 in E Flat Major, BWV 852
Prelude & Fugue #2 in C Major, BWV 847
Two-Part Invention #8 in F Major, BWV 779
Two-part Invention #4 in D minor, BWV 775
Prelude & Fugue in F minor #12, BWV 857
Prelude & Fugue in C Major #1, BWV 846
Partita #5 in G Major, BWV 829
French Suite #5 in G Major, BWV 816
Prelude & Fugue in G minor #16, BWV 861
Prelude & Fugue in G Major #15, BWV 860
Two-Part Invention #3 in D Major, BWV 774
Two-Part Invention #12 in A Major, BWV 783
Prelude & Fugue in F Sharp minor #14, BWV 859
Prelude & Fugue in C Sharp Major #3, BWV 848
Prelude & Fugue in A Flat Major #17, BWV 862
Three-Part Sinfonia in E Flat Major, BWV 791
Prelude & Fugue in B Flat minor #22, BWV 867
Partita #1 in B Flat Major, BWV 825
Richard Lester, harpsichord
Nimbus NI5948/9
When Classical Net reviewed volume 1 Nimus NI5946/7 of this very promising cycle of all of Bach's keyboard works on Nimbus by British specialist, Richard Lester, the verdict was wholly positive. The original plan was to release two CDs each year until 2023. Although that ambitious schedule seems to have slipped slightly, no lover of Bach's (keyboard) music should miss these excellent releases as they appear. This, the second volume, came out earlier in 2018 and is as splendid as the first. The approach for the series was an interesting one: instead of a chronological survey, or a series of CDs (or sets) arranged according to sub-genre, Lester presents what amounts to a recital with the focus on several major works from Bach's extensive output for keyboard.
The lengthier works here are the third English Suite in G minor (BWV 808), fifth French Suite in G Major (BWV 816) and the first and fifth Partitas in G Major (BWV 829) and B flat Major (BWV 825). Sandwiched between these on each disk are selections of Preludes and Fugues (Book 1), Two Part Inventions and the delightful E flat Major Three Part Sinfonia (BWV 791). As if Lester's playing were not full enough of color to make our experience as varied as is the music itself, this alternation of works provides an extra stimulation to the attentive listener.
All six so-called "English Suites" are thought to have been composed when Bach returned to Weimar, first as organist in 1708; and then as Konzertmeister in 1714. Lester never overdoes the syncopation or sense of movement in the dance movements. Rather, he brings out the flavor, the emotion, of each one… the dignity of the Courante and the opulence of the Sarabande, for instance. This is in keeping with the project's wider aims. Most will have heard these pieces many times before, and have perhaps multiple recordings. Lester does have something new to say. Bach wrote the music acknowledging the conventions, for instance, of concertino and ripieno sonorities, and the contrast they make. Accordingly, Lester pays close attention to placing of the specific character of each movement and section, each combination of timbres, in what he wants us to take away from the wider whole. His meticulous playing, which yet loves spring and spontaneity, provides joy and delight at the same time as it invites us to dig perhaps a little more deeply into the rationale behind Bach's inventiveness. Of course this is what Bach would have wanted… he was never the dry mathematician which those who may not understand the composer's red-bloodedness sometimes claim. In this, Lester's wonderful balance between grace and joie de vivre – which does not mean a merely insipid lilt with the odd rush of rubato – is extremely welcome. Lester's playing is fresh, multi-colored and yet as solid and fine-grained as the wood from which the harpsichord he is playing was made.
At times it can be difficult to pin down exactly how to characterize Lester's style. Listen carefully to the first three contrasting movements (the allemande, courante, sarabande) of BWV 816 [CD.2 tr.s 1,2,3]. On the one hand you hear precision, incisive rhythms, apposite groupings of phrases and musical momentum; clean, clear interplay between right and left hands. You are quietly aware of a sense of direction – for instance throughout the twisting and melodic journey in the subsequent gavotte [CD.2 tr.4]. Lester invokes that sense of inevitability in Bach's writing which gives it its sense of the infinite, the eternal. At the same time, his insight into what the music expresses never lacks lightness of touch, is never ponderous – for all the gravitas. And never self-important. Yes, these are dance movements (see above). But Lester somehow infuses them with just the right balance between the present moment and its relationship with everything which we have ever experienced before now. The result is that they communicate so much more. Lester writes in his essay about the art of accompanying dancers and the need (strengthened here by Quantz's thought on the matter) to "regulate" dancers' own movement by strict adherence to the accepted/agreed tempo. Lester's playing is able to honor both the spontaneous and the enduring.
The harpsichord in these recordings is a double-manual instrument by Colin Booth, whose own Byrd recital was favorably reviewed here earlier in 2018. It's derived from a single-manual original by the Hamburg builder Johann Christoph Fleischer (1710) with a temperament based on Neidart at A=415Hz. It has a rich and sonorous tone; not fragile or reticent. Yet one which adapts – as though "instinctively" – to the most minute nuance of touch and release. It's recorded well forward, which makes for a full and immediate experience with not a hint of the overbearing. Just right, in fact, for Lester's rounded style… and for the music itself.
The acoustic of these CDs is that of Buckfastleigh Abbey in Devon. It has a lovely resonance and sense of space somewhat akin to those of the ecclesiastical and court buildings in which Bach played in southeast Germany in the early eighteenth century. At the same time both that acoustic and the skills of Paul Arden-Taylor, the audio engineer and editor, allow every nuance, close detail and musical ornament and emphasis to emerge – naturally but cleanly and unambiguously. This applies particularly to changes in dynamic, about which Lester is so caring. Lester's own extensive notes for the set are both helpful in setting the biographical context and illuminating in exploring the sometimes under-appreciated relationship between these works of Bach's and the dance.
This is true not just for the well-known movements … allemande, courante, sarabande etc; but also for the ways in which the very heart and soul of dance movement are adapted to music where no-one but an (in this case single) performer is involved. Lester's argument (as carefully expounded in his absorbing essay) eschews undue conjecture and seizes intelligently only that which can safely be deduced. For example, that only so much about tempo can automatically be assumed when such forms are adapted to this music. And the knowledge that movements so adapted tend to be slower and more (rhythmically) flexible than when played specifically to accompany dancers. To bear this in mind enhances our experience of the music itself. As the microcosm of his written thoughts informs us, so Lester's actual playing is the hearty macrocosm. They both allow the same recommendation to be reached as that for Volume 1 in the series: the blend of scholarship, understanding and a lifetime's experience with playing – which is both infused with life and yet wholly respects Bach's idiom – makes this a release to be snapped up immediately.
Copyright © 2018, Mark Sealey