Related Links
Recommended Links

Site News
CD Review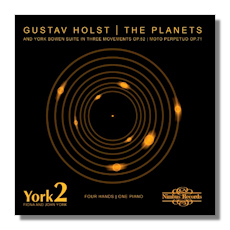 The Planets
The Planets Suite, Op. 32 (Version for four hands)
York Bowen:
Suite in 3 Movements, Op. 52
Suite #2, Op. 71 (3rd Movement)
York2
(Fiona & John York, pianos)
Nimbus NI5871 71min
The seeds of Holst's "The Planets Suite" were sowed at St. Paul's Girls School on Brook Green in Hammersmith, where the composer served as the school's first Director of Music from 1905 until his death in 1934. There was a superb female choir and trusted colleagues could work from his dictation and try out his new ideas. His cosy little soundproof room served as the perfect setting for him to write and rehearse his groundbreaking "Planets Suite", before its auspicious public debut at the Queen's Hall in 1918.
In a cupboard in this same room, a leather-bound, engraved copy of the piano four-hands version, meticulously prepared by Holst and his staff, was discovered and it is this score that is recorded here. Signed by the composer and credited to his devoted amanuenses Nora Day and Vally Lasker, the piece rather lacks the dramatic power of the orchestral tour-de-force, but certain deft touches which get engulfed by the cacophony of sound reveal themselves with limpid clarity. Venus and Neptune are particularly striking.
Holst's contemporary York Bowen (1884-1961) was a composer of great stature and his output is staggering although, sadly, much of what he wrote remains unperformed, unrecorded and unpublished. It is only of late that his piano music is making its way onto CD, and the two short pieces on this issue are prime examples of Bowen's fine craftsmanship and prolific imagination.
York2 (Fiona and John) are devoted advocates of this special repertoire, and their interpretations are constantly alluring and vivacious, particularly when the music warrants a bouncier touch. Off the beaten track piano music that should appeal not only to keyboard aficionados, but to a wider audience whose tastes might be more varied.
Copyright © 2011, Gerald Fenech