CD Review
Keyboard Music from the Iberian Peninsula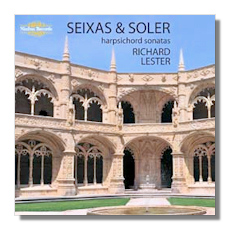 Harpsichord Sonatas
Sonata #5
Sonata #6
Sonata #11
Sonata #19
Sonata #20
Sonata #23
Sonata #25
Sonata in D minor, SR 15
Sonata in C Major, SR 45
Sonata in F Major, SR 56
Sonata in D Major, SR 84
Sonata in D Flat Major, SR 88
Sonata in F Sharp Major, SR 90
Sonata in D minor, SR 117
Richard Lester, harpsichord
Nimbus NI5836 79m DDD
Energetic. Decisive. Deliberate. Authoritative. These are adjectives which come to mind after just a few minutes listening to Richard Lester's new (and generous – at nearly 80 minutes) recital of music from two of the leading and most innovative eighteenth century Iberian composers, Carlos Seixas (1704-1742, who was Portuguese) and Antonio Soler (1729-1783, Spanish). The other outstanding figure of the era there was Domenico Scarlatti, of course. It is the latter's solo keyboard music which occupied Lester for seven multi-CD volumes (also for Nimbus) and won him widespread acclaim.
One could also almost add the word "exciting" to Lester's approach. For his style is certainly full of vigor and lightly-worn virtuosity. The amazing 10-minute "Fandango" with which the recital ends yields not a semiquaver to docility or drowsiness: it's spectacularly alive. But that might be to exaggerate the famed "color" of the region, and this era of its music. Lester is well aware of – and amply and consistently conveys – the subtleties and welcomingly speculative nature of the music.
He also plays the pieces so as to show their historical significance in perfect relief. True there is the "folk" influence, as much as there is Scarlatti's influence: the latter was older than Seixas and Soler and they both studied with him; but then Scarlatti also used folk rhythms. Yet this music is not rough nor spoilt with twirling fizz. There is vibrancy and impact on the senses, to be sure. And Lester is alert to its energy. Yet it's more subtle. More cerebral.
The three composers played a major part in developing the binary sonata and the galant style in the Iberian peninsula, which prepared the way for the Classical movement. Indeed it was the galant style which particularly resonated with Seixas. He wrote about 700 such pieces, although all but about 100 were lost in the Lisbon earthquake of 1755. Amazingly, there are only two CDs current in the catalog devoted to the composer, including the first in a series from Débora Halász on Naxos (8.557459); and a disk on Musicaphon (M56867) by Christian Brembeck. So even if Lester's conception of Seixas' work, and his playing were not so good as they are, this CD would be a boon. In fact, Lester is so well attuned to the the variety, originality and economy of the works (all of which come from the Organa Hispanica collection) that they make a positive contribution to what has to be admitted is a somewhat neglected area of the repertoire. Some of Seixas' harmonies are as arresting as his rhythms; his melodic invention is most pleasing.
Like Seixas, Soler developed musical prowess early: he was maestro di cappella in Lerida at 15. By 1753 he was a monk, and devoted the rest of his life to composing. Of Soler's there is much more keyboard music currently available on CD. Like both Seixas and Scarlatti, Soler often incorporated elements of dance in his works, which also often have a Moorish flavor. And was comfortable with the galant style. None of this, though, does Lester portray as "color" for color's sake. Rather, he actually pares the music down to its emotional elements and lets them convey what they will
At times this must include – for all Lester's intimate familiarity with the region and time – feelings and atmospheres that only the composers could have known. So there is often an air of intrigue, mystery almost, which Lester exposes very tellingly, but without histrionics. Similarly, the balance between secular and sacred concerns, idioms and priorities may be thought to have created a tension in the work particularly of Soler, who was organist at the Escorial. Again, Lester's approach is one which capitalizes on such tension and allows the music to be perceived more as a stretched membrane than a saturated tapestry. Not all performers of the repertoire display or use this sense of urgency. Nor match Lester's sensitivity to the subtleties of the music.
The instrument used for this recording is a copy by Michael Cole of the Autunes harpsichord of 1785, now in the Finchcocks collection in Kent, England. Both Seixas and Soler are likely to have known the work of the Autunes family, though not this model, of course. It is a forward and precisely-focused sound. Though neither shrill nor brittle. The acoustics of the recording (Wisteria Lodge in Gloucestershire, England – the same location as was used for Lester's Scarlatti triumph) are just right, throwing our attention onto the subtleties, structure and intricacies as much as onto the sheer sound of the music. There is a simple and informative booklet which joins the music on this recommendable CD in only making us want to hear more.
Copyright © 2009, Mark Sealey