Related Links
Recommended Links

Site News
CD Review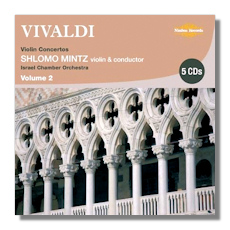 Violin Concertos, Volume 2
Concerto in C Major, RV 189
Concerto in C minor, RV 197
Concerto in C minor, RV 202 (Op. 11 #5)
Concerto in D Major, RV 207 (Op. 11 #1)
Concerto in D Major, RV 215
Concerto in D Major, RV 216 (Op. 6 #4)
Concerto in D Major, RV 223
Concerto in D Major, RV 229
Concerto in D minor, RV 239 (Op. 6 #6)
Concerto in D minor, RV 241
Concerto in D minor, RV 248
Concerto in E Flat Major, RV 259 (Op. 6 #2)
Concerto in E Flat Major, RV 260
Concerto in E Flat Major, RV 261
Concerto in E Major, RV 267
Concerto in E Major "Il ruposo - Per il Santissimo Natale", RV 270
Concerto in E minor "Il favorito", RV 277 (Op. 11 #2)
Concerto in E minor, RV 280 (Op. 6 #5)
Concerto in F Major "Per la Solennità di S. Lorenzo", RV 286
Concerto in G Major, RV 308 (Op. 11 #4)
Concerto in G minor, RV 318 (Op. 6 #3)
Concerto in G minor, RV 321
Concerto in G minor, RV 324 (Op. 6 #1)
Concerto in G minor, RV 329
Concerto in A Major "Il rosignuolo", RV 335a
Concerto in A Major, RV 336 (Op. 11 #3)
Concerto in A Major, RV 343
Concerto in A Major, RV 349
Concerto in B Flat Major "Il Carbonelli", RV 366
Concerto in B minor, RV 387
Concerto in A Major "L'ottavina", RV 763
Shlomo Mintz, violin
Israel Chamber Orchestra
Nimbus NI2523-7 5CDs 297m DDD
[Volume 1]
This is the second volume in these refreshing Vivaldi concerto reissues from the now defunct MusicMasters catalogue, another hugely enterprising diversion for the Nimbus group which is fast becoming the UK's première music label in a wide variety of genres.
Shlomo Mintz and the Israel Chamber Orchestra surely need no recommendation in this kind of genre and the early 1990's recordings come up as fresh as the literal fiddle which Mintz plays on. The balance between soloist and orchestra is well nigh unsurpassable and the music leaps around with zest and joy.
There really is nothing much further to add to these excellent recordings which are surely up in the top ranks of Vivaldi works. One obviously looks forward to further reissues in this excellent series.
Copyright © 2009, Gerald Fenech