CD Review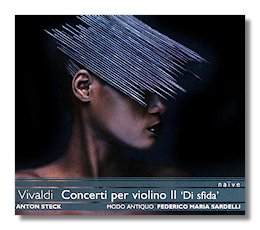 Violin Concertos, Vol. 2 "Di sfida"
Concerto in D Major for Violin, Strings & Continuo, RV 232
Concerto in E Major for Violin, Strings & Continuo, RV 264
Concerto in G minor for Violin, Strings & Continuo, RV 325
Concerto in A Major for Violin, Strings & Continuo, RV 353
Concerto in D minor for Violin, Strings & Continuo, RV 243, "Senza cantin"
Concerto in B Flat Major for Violin, Strings & Continuo, RV 368
Anton Steck, violin
Modo Antiquo/Federico Maria Sardelli
Naïve OP30427 DDD 55:08
This second volume of Vivaldi's violin concertos in Naïve's staggering series of works from the National University Library in Turin emphasizes technical virtuosity – thus the collection's subtitle "Di sfida," which is Italian for "challenge" or "defiance." (There is no "di sfida" concerto per se.) In an interview, included in the accompanying booklet, soloist Anton Steck goes so far as to suggest that it might have been Vivaldi, not Locatelli, who was the spiritual predecessor of Paganini.
Steck should know. Apparently he is the first violinist ever to record the Concerto in B flat. "I was astonished to see how far Vivaldi goes technically in RV 368," he is quoted as saying in the aforementioned interview. The difficulties include tenths, passages in unusually high positions, fearsome jumps, and flying staccatos. Steck comments, "I would say that there are only a few pieces in the whole of the eighteenth century that show a comparable degree of difficulty."
RV 243 is called "Senza cantin" because it requires the soloist to omit using the highest string on his instrument, the E string. This is of consequence because it compels the soloist to play very high up on the A string, which creates a distinctive timbre, as well as its own set of technical issues. The other concertos on this CD present less specific challenges, but they're still ridiculously hard. (Did Vivaldi compose any concertos that were easy?)
At the same time, one shouldn't assume that these six concertos lack artistic value. They are more than exercises for the arm. Returning to RV 243, in the opening movement one hears unusual and beguiling harmonies and chord progressions. Steck likens these to Sephardic music – an interesting idea. Also, Vivaldi's gift for writing emotionally compelling slow movements is as apparent here as anywhere else. Even when he raised a sweat in the orphans from the Osdepale della Pietà, he remembered to give them an opportunity to sing in the middle movements.
Steck, whose large discography includes Schubert and Mozart, and who also is concert master of Concerto Köln, is equally fabulous, whether you judge him as a virtuoso or as an overall musician. He avoids letting these concertos devolve into display pieces, and he gives them all due feeling and intellectual interest. Sardelli and Modo Antiqua throw themselves into accompanying him, not always with Steck's smoothness of timbre, but always with enthusiasm and know-how. The engineering lacks a little richness but shows off the musicians to good advantage overall.
Copyright © 2008, Ray Tuttle