CD Review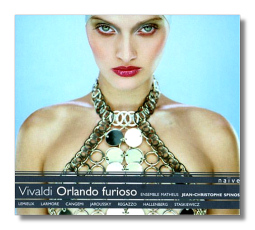 Orlando furioso
Marie-Nicole Lemieux (Orlando)
Jennifer Larmore (Alcina)
Veronica Cangemi (Angelica)
Philippe Jaroussky (Ruggiero)
Lorenzo Regazzo (Astolfo)
Ann Hallenberg (Bradamante)
Blandine Staskiewicz (Medoro)
Choeur "Les Éléments"
Ensemble Matheus/Jean-Christophe Spinosi
Naïve OP30393 DDD 3CDs: 70:38, 66:21, 45:41

Arsilda, Regina di Ponto
Simonetta Cavalli (Arsilda)
Lucia Sciannimanico (Lisea)
Elena Cecchi Fedi (Mirinda)
Nicky Kennedy (Barzane)
Joseph Cornwell (Tamese)
Sergio Foresti (Cisardo)
Alessandra Rossi (Nicandro)
Coro da Camera Italiano
Modo Antiquo/Federico Maria Sardelli
CPO 999740-2 DDD 3CDs: 68:55, 57:07, 40:10
Orlando furioso, based on Ariosto's epic poem - which at one time was extremely popular – is one of those Baroque operas which requires audiences to suspend disbelief completely. This might have been easier in 1727 (the year of its première) than it is today. That plot hinges around the malicious and man-hungry sorceress Alcina who sows romantic confusion among the smitten visitors to her enchanted isle. Orlando, a trouser role, is a paladin in love with Angelica, the daughter of the King of Cathay. She, in turn, loves Medoro. Orlando's fruitless pursuit of Angelica, encouraged by Alcina, causes him first to be trapped in a cave, and then to go literally insane with jealousy. Finally, Orlando regains his wits, gives Alcina her comeuppance, and blesses the marriage of Angelica and Medoro. This summary covers only a fraction of what happens in this opera. Suffice it to say that this drama combines the exploits of great heroes with the emotional entanglements of a modern soap opera. The action is swift, and despite the work's length, it is never dull. Because Vivaldi treats the voices as if they were string instruments – everything is a concerto with this composer, it seems! – the vocal writing is highly demanding; prodigious breath control and agility are particularly important in Vivaldi's writing for voices. Recitatives alternate with arias in ABa form. While the arias are static (yet often brilliantly written), the recitatives crackle with the continuously developing plot.
This opera was recorded about 20 years ago with a starry cast which included Marilyn Horne in the title role and Victoria de los Angeles as Angelica. Claudio Scimone was the conductor. Naïve's new recording knocks the older one out of court in terms of completeness and authenticity, thanks to a new reconstruction of the score. Now a real counter-tenor sings the role of Ruggiero, for example. Lemieux, while not as memorable as Horne, brings something of Horne's vocal "attitude" to the title role. The other singers are specialists in the Baroque repertoire, and are unfazed by Vivaldi's ornate and virtuosic writing. Just as importantly, all of them are dramatically engaged. Recitatives, which can be tiresome interludes between arias, grippingly move the story along on this recording. Almost to the point of exaggeration, the singers act like the happenings on Alcina's island are of earth-shattering importance. If Baroque opera formerly has seemed boring to you, Orlando furioso will make you change your mind. A healthy-sounding ensemble of period instruments adds much, and the chorus makes a positive impact during its brief appearances. The engineering is superb, and the booklet contains all the information one needs to facilitate enjoyment of this opera, including a full libretto with translations.
Arsilda predates Orlando by about decade. It was Vivaldi's third opera, and it comes from the same period as his much better known oratorio Juditha triumphans. The path to Arsilda's première was not a smooth one. Venetian censors insisted on many changes to the libretto, and an opera that had been carefully composed by Vivaldi and librettist Benedetto Domenico Lalli was greatly disfigured and diluted. This leaves modern musicians in a quandary: should they perform the final version, or should they try to return to Vivaldi's and Lalli's original intentions? Arguing that Arsilda, as it was first conceived by the composer and the librettist, is a more interesting and innovative opera than the tidily documented revision which was heard in the Sant'Angelo Theater in October 1716, conductor Sardelli has returned to the original autograph score. The autograph score is anything but closed-ended, and Sardelli and his collaborators have painstakingly recreated what might be called the "director's cut" of Arsilda, Regina di Ponto. This is the opera's first recording in any version.
The plot is another Baroque farrago, hardly more sensible than Orlando. In place of the sorcery found in the later opera, Arsilda contains a dollop of gender-bending in the style of Shakespeare. The noble Lisea is pretending to be her royal twin brother Tamese, who is believed to be dead, in order to retain her claim to the crown of Cilicia. As the supposed Tamese, she is betrothed to Arsilda, the Queen of Pontus, but as Lisea, she is promised to Barzane, the King of Lydia. Barzane, for his own part, loves Arsilda. What's a woman to do? The Princess Mirinda, Lisea's confidante, comments, "What I was unaware of till now is that Hymen can create strong ties between two women." Set in modern times, Arsilda might be a hit TV series. Eventually, Tamese, who has been pretending to be a gardener (!) reappears, and the characters happily couple off in the expected heterosexual pairs. What makes Arsilda especially confusing for modern listeners is that two of the male roles (Barzane and Nicardro, the Prince of Bithynia) are sung by women on this recording. I would like to know what Vivaldi really had in mind for these seven characters, in terms of gender. Musically, Arsilda is a hardly less enjoyable than Orlando. However, if Orlando's glory is the brilliance of its vocal writing, the glory of Arsilda is in the vividness of the instrumental accompaniments. The settings and the texts provide Vivaldi with many opportunities for pictorial writing, something at which this composer always excelled.
This fine sounding recording dates from 2001. The opera was performed at the Opera Barga Festival and recorded at the Church of the Most Holy Crucifix in July of that year. The singers are unfamiliar to me, and there is no biographical information about them in cpo's thick (151 pages) booklet. Fear not, though, because this is another enthusiastic and professional production. One of the most delightful singers is Alessandra Rossi, who girlishly chirps her way through the (male!) role of Nicandro, Tamese's confidant. Mirinda sings a fetching aria about being like a jasmine flower – two harpsichords provide a charming accompaniment – and Elena Cecchi Fedi makes the most of it. The saying about Il trovatore is that all it needs is four of the finest singers in the world. Well, with Arsilda, and also with Orlando, there are no minor roles, so all the cast members have to be on top of their game. There are 18 instrumentalists on this recording (unusually, Sardelli conducts from the flutist's chair), and 15 members of the chorus.
Exit reviewer on a hippogriff!
Copyright © 2005, Raymond Tuttle