Interview with Robert Bloom
When Maestrino was a print medium, I had the pleasure of interviewing several people associated with Leopold Stokowski. I plan to re-print the most interesting of those interviews. The first one here is the one I recall most fondly and which was the most interesting, it was with Bob Bloom. Bob played English horn and or oboe as needed. He worked with Stokowski and Toscanini, to mention but two well known names. I drove to his house in a suburb of Cincinnati on a cold November day in 1990. At 80+ he was a package of energy. He had a twelve year-old daughter who we talked about for awhile. She was at school, his wife, Sally, at work. The conversation lasted over three hours. What is here is condensed largely due comments Bob made about certain conductors and players, he named names, which he did not want in print.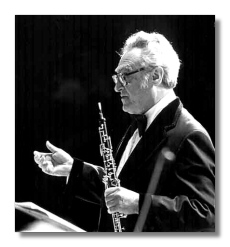 Tell me a bit about your background and how you got into the Philadelphia Orchestra.
Well, I was born in Pittsburgh and went on to Carnegie Mellon College. I had been playing cello but was offered a chance to study oboe with Marcel Tabeteau at Curtis. He was a wonderful teacher and it was free, so I went.
After three years there, the nephews of Vladimir Sakalov, the conductor of the Cleveland Orchestra, suggested I audition for the position of first oboe with the Cleveland. You see, they were students of Curtis, too, and felt I could do the job.
Somehow Stokowski got wind of this (no pun intended) and he told the harpist, Carlos Salvado, "You tell that young man that it's closer from Curtis to the Academy of Music than it is to Cleveland."
So, I got a job playing oboe with the Philadelphia Orchestra. After a couple years at that position, Stokowski asked me, "Do you have an English horn? I said that I didn't and he said, "Well, get one." That's how I got started with the English horn. You can hear my playing in the 1934 Dvořák 9th. I played with the Philadelphia Orchestra for six years.
Stokowski was very demanding. Once you got to know his approach, however, it was very consistent. He was very wonderful to me. Very strict, very demanding, as I said, but also very supportive.
Playing with Stokowski…it's not what you hear in the audience, it's what happens in rehearsals. Stokowski had a wonderful arm and hand technique. He could convey what he wanted in a motion. My wife would say that you could almost hear what he wanted in his gestures. Every gesture meant something.
I watch conductors now. A beautiful lyrical passage is being played, and their beating had nothing to do with what's happening. Television had done a lot of harm to conductors. They feel they have to make all these faces to convince audiences.
After Philadelphia what happened?
In my last year at Philadelphia, Iturbi was a guest conductor of the orchestra. He asked me, "Mr. Bloom, have you ever considered playing first oboe?" I told him I thought about it all the time. So he said, "Come to Rochester with me." Iturbi had just been appointed music director there.
I played with him for one year. During that time the NBC Symphony Orchestra was created with Toscanini the conductor. I was offered the position of solo oboe. I didn't think I was good enough to play for Toscanini but several people told me that I was. I still hesitated because Iturbi had been so good to me. Somehow Iturbi got wind of this….
Another pun?
(Laughter)…not intended. Anyway, Iturbi called me into his office. He said, "Mr. Bloom, do I hear right that you don't want to go to New York because of a loyalty to me?" I said, "That's right." He replied, "Don't be a god damned fool! If you have a chance to play for Mr. Music, go!"
I played for him for six years. He yelled at me a lot, but as a father. After awhile I became, from those in the orchestra, possibly closer than anyone else to Toscanini. Away from the podium, he was like a little child. He loved music. In his study, he would show me Puccini's snuff box, Verdi's eye glasses. He treasured these things.
One day I was visiting him and he asked me to stay for lunch. I could tell he was very tired, and we had finished our business, so I told him that I didn't have to stay. I said, "Maestro, you look tired. Why don't you take a nap?"
He said, "I've been up since five o'clock this morning studying this symphony." The symphony that week was Beethoven's Fifth.
I said, "Maestro, how many times have you conducted that?"
He answered, "Oh, hundreds."
I said, "And you're still studying it?"
I loved his answer. He said, "Well, I'm always afraid I may have missed something." This is how he really felt about music.
Having spent a lot of time with Stokowski and Toscanini, how would you compare or contrast their styles?
Well, on the surface they were as different as night and day. But the end result was music. To use an example: it is like as if you and I left a building in downtown Cincinnati. As we left I'd say, "Well, Bob, you go that way around the block and I'll go this way. We'll meet back here." In our walks we'd see different things from different angles and get different perspectives. In the end, however, we'd wind up at the same place.
You know, that's the best comparison I've ever heard. Most people divide the world into black and white and try to categorize the two as opposites. Or, as I say, there are two types of people in the world: those who think there are two types of people in the world, and those of us who know better.
(Laughter)
Anyway, after a few years I began to believe that the end of the NBC Symphony Orchestra was coming. You see, I've always believed that the reason NBC formed the orchestra was because of pressure from the FCC. The FCC was giving NBC flack because the network didn't have enough public service programs. Well, the bigwigs at NBC thought, 'Hey, we've got 120 men here, why not form an orchestra?' After a few years, though, the pressure stopped and the network was tired of putting up with the expense and with Toscanini.
I've read where Toscanini didn't want to come back and was upset. I got Mischa Mischakoff, the concert master at the time, and Carlton Cooley together to discuss this. I said, "I'll write a letter asking him to come back and we'll ask all the men to sign it." I did just that and all the men wanted to sign. The contractor then, however, blurted out, "How do you know we (meaning NBC) want that?"
I saw the point, then and said, "Oh, well that's a different story."
So, then they got Stokowski because they thought he would be easier to handle than Toscanini.
(Lots of laughter)
How was it like to work with Stokowski then?
Not a lot different. You see, at NBC I worked with a lot of different conductors. Reiner, Walter, others. Stokowski had a certain line with music that none of the others had. A world of it's own. Stokowski came along and before long you'd hear a tone you'd never heard. Especially in the celli. He was wonderful. These guys I'd worked with before, and who didn't know Stokowski, and suddenly the orchestra sounded different! The idea is, you can't get a big legato (it's too bad this isn't television) [Bloom gestures] by beating four. You have to show it in some way in your body if you want to bring that out. If you have your own orchestra you can develop that. With Stokowski it just happened.
What was it like to work with Stokowski in rehearsal?
Well, he was very demanding. The thing that would make him very angry was if something wasn't flexible. You never knew what to expect. Sometimes I think he'd do things just to see if you were watching him.
How did he manage to get The Stokowski Sound?
As I told you, he managed to create it by the way he moved. If you make a motion like this [gestures] intelligent musicians would see what you are doing. He conveyed visually what he wanted musically.
The thing he didn't like was for you to take anything literally. You know, that reminds me of one of the falsehoods about Toscanini. People said he was too literal. What these people don't understand is that he guaranteed that as a minimum. Music is composed of intervals and you have to make intervals. You can't just put a note her and put a note there. Toscanini loved to make things work within a framework. He felt it was his duty to make that work.
He could also be flexible. I remember Joe Gingold said to me, "Bob, do you realize that Toscanini gave you the greatest compliment I ever heard him give anybody?" I asked what it was. He said, "Do you remember we were doing the Schubert C Major Symphony [Bob hums a few bars] and Toscanini stopped and looked at you. He paused and then said to himself, 'Be quiet, Toscanini. It's not the way I would've done it but it's good."
Did you ever visit with Stokowski socially?
Not really. I got sort of close to him when we took the transcontinental tour my last year with the orchestra. We had our special train and we all lived on that. We ate there, ran around in our pajamas. There was this fine seamstress in Philadelphia who made clothes for a lot of the female singers. She made me a special pair of pajamas, black with a sort-of design on it. I was wearing it on the train and Stoki said, "Oh, where did you get that? I want one like it."
When he came to NBC, since he already knew me he would confide in me. He'd ask for help in dealing with some part of the orchestra. Things like that. He was also interested in my career. He gave me advice. I recall that he was afraid I'd be called into the army. He called me and said, "Get a saxophone, because then you can get into the band."
(Laughter)
My wife was a graduate student of mine when I was at Yale. Now she's a professor here at Cincinnati and a fine oboist. Sally found all this correspondence (shows me a letter from Stokowski). She admitted that until finding it she found some of my stories hard to believe.
Do you recall your last work with Stokowski?
that would be impossible. I recorded in New York with him and several others. I recorded with Glenn Gould, Kostelanetz, I even did a jazz album with Jackie Gleason. Jackie was a jazz buff and he got us together to make this record. I'd love to get a copy of that. We recorded for Decca, Vanguard, RCA, you name it.
Stokowski was so happy when they started using tape and he could edit. Once we were doing a recording and listening to the playback, there was an error made. Stokowski said, "That's okay, we can take care of that." The first violinist whispered to me, "You realize, before tape he would have killed you for that."
(Laughter)
I know I did the Tchaikovsky 4th with him in New York. We would do recordings at the Lotus Club ballroom or Liederkrantz Hall. The funny thing was that we would never know what was going to be recorded until we got there. Once I got there early and Stokowski was already there. He was always early. He was up at the stand looking over the score of the Water Music and said, "There's a big oboe solo here." I didn't recall any big solo. He turned the pages and there it was, this big adagio that was never before played in the Water Music Suite. Do you have this record? I played so many years for Stokowski and Toscanini. They both, in quite different ways, influenced me and helped me to develop.
Postscript: Two years later, Bob passed away. I am honored that I had the chance to visit with him.
Copyright © 1995, Robert Stumpf II.