Related Links
Recommended Links

Site News
CD Review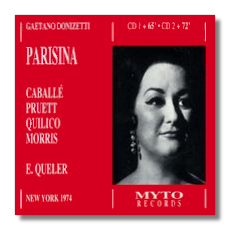 Parisina d'este
Cast

Parisina - Monserrat Caballé, soprano
Ugo - Jerome Pruett, tenor
Azzo - Luis Quilico, baritone
Ernesto - James Morris, bass
Imelda - Eleanor Bergquist, mezzo-soprano

Opera Orchestra of New York/Eve Queler
Myto 984.193 2CDs Recorded March 1974
Parisina was among Donizetti's favorite operas, though it has not endured in the repertory as well as some of his other works. It was written and first produced in 1833 in Florence, with performances soon following in opera houses around the world, including New Orleans in 1837. It then fell into obscurity, with few revivals until it reappeared in New York in 1968, mainly as a result of Caballé's fondness for the role.
The libretto by Felice Romani was based on a melodramatic poem by Byron, itself based on a historical account by Gibbon. The insanely jealous Azzo, Duke of Florence, rightly suspects that his wife Parisina still loves Ugo, whom she knew before their marriage. In spite of the efforts of his counselor Ernesto, he condemns Ugo to death, even after he learns that Ugo (who has been brought up by Ernesto) is his own son by his first marriage. Parisina dies when he shows her Ugo's lifeless body. This gory and gloomy plot allows its small cast to indulge in all sorts of splendid dramatic and lyrical solos and ensembles, notably the first act finale and Parisina's beautiful aria 'Ciel, se tu', sung just before she goes to bed for the last time.
Caballé is in glorious voice in this live recording from 1974, her warm and dulcet tones floating out effortlessly, her legendary mezza voce much in evidence. Quilico is almost at her level, robust and smooth-voiced, though neither he nor Morris do much in the way of characterization (they really don't have to with this plot). It's hard to tell about Pruett from these transfers, because for some reason he sounds as if he is singing at a much greater distance from the mike than the others. Eve Queler conducts with her usual vigor, and the orchestra responds well. The identical performance was released a couple of years ago by Standing Room Only (SRO 836), with Pruett sounding much better; that set had no libretto, the Myto libretto is in Italian only. I recommend the SRO version for its sound, but either of them will give you a great deal of musical pleasure.
Copyright © 1998, Alexander J. Morin