SACD Review
Transcendental
Études d 'exécution transcendante, S.139
Kirill Gerstein, piano
Myrios SACD MYR019 Hybrid Multichannel 64m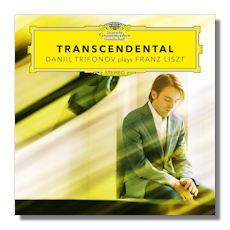 Études d 'exécution transcendante, S.139
Two Concert Études, S.145
Three Concert Études, S.144
Grandes Études de Paganini, S.141
Daniil Trifonov, piano
Deutsche Grammophon 4795529 2CDs 66:04, 51:24
Franz Liszt most likely had his bit of fun when he published his Études d 'exécution transcendante. Although his final edition from 1852 may be more accessible than its earlier incarnation, as is well known even these aren't studies for the beginner or the advanced amateur, but fiendishly difficult pieces (Daniil Trifonov describes them as "technically challenging poems" or "existential meditations") for virtuoso pianists at the top of their game, and then some. Performing all 12 Études live in concert has long remained a rare feat, still both pianists considered here have successfully accomplished this several times. It wasn't so long ago that the Études were the exclusive domain of mature Liszt specialists who tackled them on disc as the crowning achievement in this repertoire. Yet, Kirill Gerstein is 36, Daniil Trifonov is barely 25, and these are their first Liszt-only discs.
These new discs recorded in the studio are superb achievements by any means and can be recommended wholeheartedly. Both Russian pianists share an irresistible joy of performing. They traverse the Études with seemingly effortless ease and find a convincing balance between jaw-dropping virtuosity and inspired musicality, drawing attention to the lasting value of Liszt's oeuvre as the invention of the modern piano. Needless to say, there are differences too. Moreover, Trifonov's generous "Transcendental" set for DG also gives us the 5 Concert Études and the Grandes Études de Paganini on a second disc.
Kirill Gerstein is an intelligent, inquisitive musician. (He recently also set the record straight regarding the score of Tchaikovsky's famous First Piano Concerto.) Gerstein clearly sees the Études as a coherent cycle to be played as a complete set, starting with the virtuosic try-out of the keyboard in the Preludio and culminating in the truly transcendental, modernist sonorities created in Chasse-Neige. Gerstein's structural grip is obvious when considering the pieces individually; especially the more elaborate ones like Mazeppa, Ricordanza (in a terrific rendering), Harmonies du soir and Chasse-Neige, but is even more impressive when the cycle is heard in its entirety. As he explains in the informative interview published in the booklet of this Myrios release, it helps coming to grips with the Études by thinking of them as a collection of pairs, not just tonally but also by character. This approach sheds new light on the cycle, creating extra dramatic contrast.
While Daniil Trifonov also performs the complete Études d 'exécution transcendante in concert, in this recording I was less struck by the coherence of the cycle than in Gerstein's hands. Arguably most listeners won't be bothered by this, because Trifonov's pianism is such a stunner (he is more controlled and above all more accurate in the studio than live, and is also slightly better served by the engineers than Gerstein). His remains a tremendously exciting journey, always articulate and brilliantly colorful, but by his seemingly impromptu approach the individual character of the pieces tends to dominate the bigger architecture. Trifonov can be very theatrical, allying telling silences with fierce attacks or dazzling fusées, but I missed some of the gravitas that Gerstein sensitively conveys in the more melancholic passages. However, where Trifonov remains unequalled is by the lightness and transparency of his textures, weaving these ultra-delicate but flexible tapestries of sound in notably Paysage and Feux follets, as well as in the lyrical Concert Études La Leggierezza and Il Sospiro, and the impressionistic Waldesrauschen and Gnomenreigen. He also makes a very strong case for the underrated Paganini Études, including a very refined rendition of La Campanella, a marvelously handled Arpeggio and an eloquent La Chasse.
In short, these are utterly rewarding releases, new frontrunners in this repertoire that deserve a place in every serious Liszt or piano collection.
Copyright © 2016, Marc Haegeman