CD Review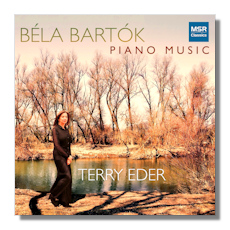 14 Bagatelles, Op. 6 (Sz. 38)
Molto sostenuto
Allegro giocoso
Andante
Grave
Vivo
Lento
Allegretto molto capriccioso
Andante sostenuto
Allegretto grazioso
Allegro
Allegretto molto rubato
Rubato
"Elle est morte": Lento funebre
Valse "Ma mie qui danse": Presto
2 Romanian Dances, Op. 8a (Sz. 43)
Romanian Dance #1 (Allegro vivace)
Romanian Dance #2 (Poco allegro)
15 Hungarian Peasant Songs, Sz. 71
(Four Old Sorrowful Songs)
Rubato
Andante
Poco rubato
Andante
Scherzo (Allegro)
Ballade (Tema con variazioni)
(Old Dance Tunes)
Allegro
Allegretto
Allegretto
L'istesso tempo
Assai moderato
Allegretto
Poco più vivo – Allegretto
Allegro
Allegro - Più vivo - Poco più meno vivo
Improvisations on Hungarian Peasant Songs, Op. 20 (Sz. 74)
Molto moderato
Molto capriccioso
Lento, rubato
Allegretto scherzando
Allegro molto
Allegro moderato, molto capriccioso
Sostenuto, rubato
Allegro
Mikrokosmos, Vol. 6, Sz. 107
No. 148
No. 149
No. 150
No. 151
No. 152
No. 153
Terry Eder, piano
MSR Classics MS1410 78:20
In case you didn't tally the listings in the heading, this CD contains 45 pieces by Bartók. The disc's duration of 78:20 gives you an idea of the brevity and expressive nature of the individual works. Bartók had a reasonably substantial output for solo piano music, and the greater part of it consisted of short pieces, more economical than most of Chopin's etudes and preludes. He apparently preferred to compose music in smaller units of time and form. He wrote relatively few large orchestral, stage and choral works: no symphonies, six completed concertos (one for orchestra), two ballets, one opera, the choral work Cantata Profana, and a handful of other symphonic and concertante works. He did produce a fair number of chamber works too, though they're generally not long-breathed creations either. Thus, in many ways, this CD offers Bartók, the fellow who collected over six thousand folk tunes, in his most comfortable element – writing brief, folk-inspired piano pieces.
Pianist Terry Eder was a student of Peter Takács and Balint Vázsonyi, and spent time in Hungary to study Bartok's music. She has appeared at Carnegie Hall and Alice Tully Hall, and has garnered critical acclaim for her Bartók performances. She seems quite at home in these works, playing with a crispness and wit, and an innate grasp of the ethnic character of the music. Her tempos tend to be moderate and mostly well judged, and she wisely avoids turning overly percussive as so many pianists do in Bartók.
Eder's account of the 14 Bagatelles shows these watershed works from 1908 as quite advanced for their time. Bartók broke away from the influence of Liszt and others here, producing fourteen choice nuggets wherein one often hears tonal ambiguity, new harmonies and imaginative rhythms. Eder makes an excellent case for each piece, though perhaps she is a tad on the expansive side in #12. Still, she is arguably quite convincing here in her own more deliberate way. Eder presents fairly muscular but tasteful accounts of the Two Romanian Dances, which at over five minutes each are the longest works on the disc and certainly among the most rewarding in terms of expressive depth.
The 15 Hungarian Peasant Songs offer the most conventional-sounding music on the disc, with more than a few catchy tunes and bouncy rhythms. Eder deftly captures their ethnic character, their sense of regret or sorrow (try #1, 2 & 6), their happiness or playfulness (#5, 7, 10) and their unique expressive manner. The Improvisations on Hungarian Peasant Songs (Corrected by P. Bartók 2002) are certainly colorful pieces, but perhaps a little less accessible than the 15 Hungarian Peasant Songs. Eder again delivers the goods here: to mention but a few examples, she finds considerable depth in the forlorn and intense #3 and effectively conveys the carefree, sort of sassy manner of #4 and 5.
Her selection from Mikrokosmos, #148-153 (Six Dances in Bulgarian Rhythm), offers arguably this set's most challenging pieces. She does fine with them: try her breathless and finely shaped accounts of #149, 152 & 153 to hear her technical prowess as well as her fine interpretive sense. The sound reproduction on this MSR CD is clear and well balanced, and the album notes by Ms. Eder are quite informative. If you like Bartók, you should find this disc much to your liking.
Copyright © 2015, Robert Cummings