Blu-ray Review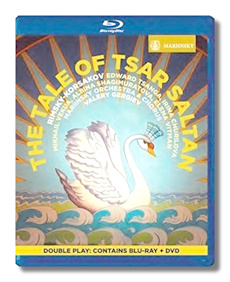 The Tale of Tsar Saltan
Edward Tsanga - Tsar Saltan:
Irina Churilova - Tsaritsa Militrisa:
Mikhail Vekua - Tsarevich Guidon:
Albina Shagimuratova - The Swan-Princess:
Varvara Solovyova - Tkachikha:
Tatiana Kravtsova - Povarikha:
Elena Vitman - Barbarikha
Mariinsky Orchestra & Chorus/Valery Gergiev
Alexander Petrov - Stage Director
Vladimir Firer - Set & Costume Designer
Vladimir Lukasevich - Lighting Designer
Recorded live at the Mariinsky Theater, St. Petersburg, Russia - July 2015
Mariinsky Blu-ray & DVD MAR0597 2:30:45
The Tale of Tsar Saltan is unjustly neglected, like most of Rimsky-Korsakov's operas. None of the fifteen are in the standard repertory or even near the fringes. That's unfortunate because several of his operas are masterworks, like The Golden Cockerel, The Legend of the Invisible City of Kitezh and the Maiden Fevroniya, The Tsar's Bride, and possibly several others, including this one. One of the problems plaguing his operas in the past is that the language of Russian has been a drawback in the world of opera. Indeed, how many Russian language operas are in the standard repertory? Mussorgsky's Boris Godunov, Tchaikovsky's Eugene Onegin, and maybe Glinka's Ruslan and Lyudmila. Prokofiev's War and Peace and Love for Three Oranges have gotten some attention as has Shostakovich's Lady Macbeth of Mtsensk, but these and various other operas by the other three composers mentioned above can't quite make the necessary headway to get regular performances by the world's major opera companies. But why should the language, a major language at that, pose a problem?
Opera singers have traditionally learned to sing Italian, French and German operas, but relatively few sing Russian, except of course those who are Russian-born. The Love for Three Oranges has been more often sung in French and English than in Russian, at least in the West. And there are other major Russian operas that, when they have been performed at all, were commonly sung in Italian, French and German versions. My point is, Russian opera is better than its standing has been in the major houses over the years, mainly because of the unfortunate circumstance of its language, a regrettable encumbrance that shouldn't be an encumbrance at all. But there's hope now because it appears that in recent times things have been changing, albeit slowly. One of the reasons why we're seeing somewhat more Russian opera is due to Maestro Valery Gergiev, who has been so proactive in presenting a great number of these still neglected masterpieces on international stages.
So, now that things are beginning to look better for Russian opera, let me turn to further good news, and good news of a more immediate nature: this production of Rimsky-Korsakov's Tsar Saltan is very convincing in just about every respect. There are some nitpickers out there who have registered a few complaints though; so let me deal with them. Yes, the dancing won't draw kudos from balletomanes and the acting may strike some as a bit overdone or simplistic. And some have noted that the production is hardly new, dating to 2005 and having roots in a 1930s Leningrad version. But this last observation is based on the age-old notion that "new is better than old". Well, that's not necessarily so of course, as is clearly shown here. As for the dancing and acting, dancing is hardly a major aspect of this or any production of this opera, and I think the acting could hardly be better suited: every character fits in well with the fantasy-like tale and its cartoon-like atmosphere. Indeed, and their singing style and dramatic manner are consistently at one with Rimsky-Korsakov's music and story. Irina Churilova as the Tsaritsa and Albina Shagimuratova as the Swan Princess are outstanding. The other members of the cast are also quite impressive. At any rate, I believe most operaphiles will find this production very much to their liking.
Of course, Maestro Gergiev draws fine playing from the excellent Mariinsky Orchestra and Chorus and fashions a most spirited and convincing interpretation of the work. The sets are splashy and colorful, conveying a fantasy world that mixes in regal aspects with a cartoon world. Actually, that "cartoon world" is present here literally, as animated cartoons representing action within the story are shown during orchestral numbers on a screen that appears in an open window. They serve as a clever sort of transition device. True, some of the sets look a little too artificial (draped fabric representing walls or structures), but visually everything falls nicely into place in this colorful rendering of this fine opera.
There is at least one great irony associated with Tsar Saltan: while it is one of the composer's more neglected stage works, it contains perhaps his most famous hit, The Flight of the Bumblebee, an instrumental number that isn't even included in the orchestral suite adapted from the score by the composer, but is heard in countless arrangements for various instruments by other hands. This opera also has the longest title of any by Rimsky-Korsakov, that being The Tale of Tsar Saltan, of his Son the Renowned and Mighty Bogatyr Prince Gvidon Saltanovich and of the Beautiful Princess-Swan.
As for technical aspects of this recording, I can say the sound reproduction, picture clarity and camera work are all excellent. This is an easy recommendation: there are no other video recordings of this opera available, but even if there were I suspect that this Mariinsky effort would still top the list. Moreover, buyers get both a DVD and Blu-ray disc. Highest recommendations!
Copyright © 2018, Robert Cummings