Related Links
Recommended Links

Site News
CD Review
Rafael Kubelík Conducts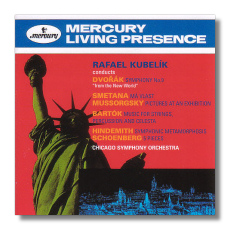 Chicago Symphony Orchestra/Rafael Kubelík
* Chicago Symphony Orchestra/Antal Doráti
Mercury Living Presence 475686-2 4CDs 277m ADD
This is another extremely valuable set in the rather outstanding Mercury 'Living Presence' series that brings together some great recordings from Rafael Kubelík's ill-fated sojourn in Chicago in the early 1950's. Although he left with some animosity, this does not spill over into the music making which is excellent on all counts and has that stunning Mercury sound to back it up.
Mozart's Symphony #38 is not exactly a period approach and I must say that it was my least preferred item in the set. All this changes with Dvořák's 'New World' that comes alive quite magically especially in the resplendent Largo with all its beautiful melodies and tunes superbly played by the CSO.
The second disc is dedicated to Smetana's monumental portrait of the Czech homeland, 'ma Vlast' and is the first of Kubelík's four recordings. I was weaned on the conductor's Boston Symphony Orchestra reading dating from 1971 and was bowled over by this superbly resplendent 1953 recording that truly comes to life in the way that Talich's always did.
Mussorgsky's 'Pictures' is a slightly rushed job but again, Kubelík finds nobility and grandeur especially in the monumental 'Great Gate of Kiev' that concludes the work in apocalyptic fashion. Bartók's 'Music for Strings, Percussion and Celesta' is also extremely fine on all counts although it lacks that last ounce of authority found in Antal Doráti's superb version, also on Mercury.
The final disc brings four composers, four works and two conductors together. I greatly enjoyed Hindemith's 'Symphonic Metamorphosis on Themes of Carl Maria von Weber' which gaily comes to life in Kubelík's hands. Schoenberg's complex 'Five Pieces for Orchestra' is also very well handled although I prefer the much lighter Karajan here. Antal Doráti then enters the fray with a classic account of Kodály's 'Variations on a Hungarian Folksong, The Peacock' and a powerful reading of Bartók's 'Miraculous Mandarin' suite.
As I have already indicated, this set is jam packed with orchestral goodies recorded in quite sensational mono Mercury sound. The slim booklet contains excellent notes by Patrick Lambert and the whole project is a must for audiophiles and historical collectors alike.
Copyright © 2005, Gerald Fenech