Related Links
Recommended Links

Site News
CD Review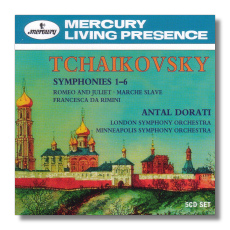 Symphonies & Major Orchestral Works
Symphony #1 in G minor, Op. 13, 'Winter Daydreams'
Symphony #2 in C minor, Op. 17, 'Little Russian'
Symphony #3 in D Major, Op. 29, 'Polish'
Symphony #4 in F minor, Op. 36 *
Symphony #5 in E minor, Op. 64
Symphony #6 in B minor, Op. 74, 'Pathétique'
Francesca da Rimini, Symphonic Fantasy Op. 32 *
Marche Slave, Op. 31
Eugene Onegin - Waltz & Polonaise *
Roméo and Juliet Fantasy Overture
Anton Arensky: Variations on a Theme of Tchaikovsky, Op. 35a **
Alexander Borodin: Prince Igor - Overture
London Symphony Orchestra/Antal Doráti
* Minneapolis Symphony Orchestra/Antal Doráti
** Philharmonia Hungarica/Antal Doráti
Mercury Living Presence 475626-1 5CDs 341m ADD
This is definitely one of the finest Tchaikovsky cycles ever recorded. The energy and drive of Antal Doráti's performances is now legendary and his mid 50's discography is already well documented. Amongst the finest examples of his art are the great Haydn symphony cycle but Doráti is also very fondly remembered for his excellent recording of the 1812 Overture that is now the stuff of legend.
I greatly enjoyed the mystic opening of the 'Winter Daydreams' symphony which creates just the right sense of atmosphere and that leads into an energetic Allegro that is matched perhaps by Maazel or Markevitch, two of my other favourites in this work. The pensive slow movement is full of some lovely string playing whilst the bombastic Finale carries real weight and prowess.
Doráti's 'Little Russian' is also very fine with the Finale an absolute thriller on all fronts. Here I recalled the fire of Lorin Maazel's similarly ebullient interpretation and the exquisite Mercury recording really breaks all barriers. The 'Polish' is also very creditable although a recent issue with Svetlanov in Glasgow on BBC Legends carries just an ounce more weight and excitement.
Doráti is on home ground in the final three symphonies although competition is extremely harsh in this sector. I possess versions by Mravinsky and Kubelík not to mention Karajan, Cantelli, Kleiber and Fricsay in the single works like the 5th and the 6th. Doráti finds fire and brimstone in the Fourth with an incredible slow movement and a white hot Finale.
My perennial favourite remains the Fifth and although Doráti is very mannered, he is slightly behind Mravinsky's magisterial interpretation with the Leningrad Philharmonic on DG. The 'Pathétique' is also very fine although again, Kleiber and Fricsay are the masters here. Still, Doráti is much better than Markevitch and Maazel who reside in complete cycles and the Mercury sound provides an added bonus.
The set also includes good recordings of Arensky's Variations on a Theme by Tchaikovsky, 'Francesca da Rimini', 'Roméo and Juliet', the Polonaise and Waltz from 'Eugen Onegin' and Borodin's 'Prince Igor' Overture. The notes are sparse and only include a short essay on the works as a whole by Robert Layton although it does make interesting reading. Recordings are spectacular in every sense and that alone could win this set an unqualified recommendation.
Copyright © 2004, Gerald Fenech