CD Review
Bernard Herrmann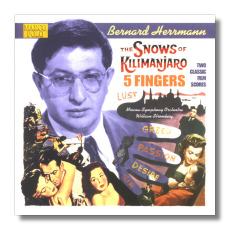 Film Scores
The Snows of Kilimanjaro (1952)
Five Fingers (1952)
Moscow Symphony Orchestra/William Stromberg
Marco Polo 8.225168 66:27
Here is yet another issue in Marco Polo's ongoing series of American film scores. We've already been given The Egyptian (Marco Polo 8.225078), a rare collaborative effort by Herrmann and Alfred Newman, and Herrmann's Garden of Evil and Prince of Players (Marco Polo 8.223841). In many ways the score for The Snows of Kilimanjaro is Herrmann's most touching – dare one say, his most human. He has always struck me as a generally cold composer emotionally, the perfect artist for the job of producing a score – a brilliant one – for Alfred Hitchcock's Psycho.
In the 1952 The Snows of Kilimanjaro Herrmann shows a sensual side not usually exhibited in his film music. The Nocturne on track II, for instance, matches the loveliness of the love theme in his masterful score for Hitchcock's North by Northwest. In fact, the two melodies are similar, both in their character and orchestration, which favors the oboe. I remember seeing The Snows of Kilimanjaro, which starred Gregory Peck and Susan Hayward, as a kid of ten or eleven, not on its first run, but probably on a subsequent one in the late 1950s. I didn't like the movie, as I recall, and couldn't really appreciate its brilliant score then. I'm still not crazy about the film, but its music, despite its mellowness and conservative qualities, is among the composer's finest. Marco Polo provides 20 cues, as restored by the indefatigable John Morgan, who must now have done more in the restoration of American film scores than any human being alive.
The score to 5 Fingers is a bit less memorable, but still a major achievement for Herrmann. The film featured James Mason and Danielle Darrieux. Some will like the music, no doubt, for its slightly more sinister character and subtler sense for conjuring atmosphere. Ironically, there is more exoticism in this score than in the Africa-based The Snows of Kilimanjaro. Try, for example, The Old Street (track 25), which captures all the exotic seediness of Turkey. In the end, despite the drama and atmosphere of cues like The Film (which, incidentally, is the longest of any on this disc), it's The Snows of Kilimanjaro that is the most important offering here. Again, John Morgan is to be thanked for his wonderful efforts in restoring these scores, and William Stromberg is to be lauded for his excellent podium skills in leading the Moscow Symphony Orchestra in vital performances of this fine music. Excellent sound and notes.
Copyright © 2002, Robert Cummings