CD Review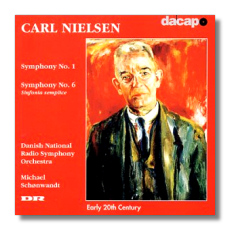 Symphonies
Symphony #1
Symphony #6 "Sinfonia semplice"
Danish National Radio Symphony Orchestra/Michael Schønwandt
Marco Polo Dacapo 8.224169 DDD 67:42
With this disc, Michael Schønwandt and the Danish National Radio Symphony complete their fine Nielsen symphony cycle. (Symphonies 2 and 3 were on dacapo 8.224126, and 4 and 5 were on 8.224156.) Ending with the alpha and the omega of these symphonies demonstrates just how far Nielsen came in nearly four decades, and yet how little he changed. He reflected the growth of the musical world that surrounded him while remaining true to himself. The First Symphony is astonishingly mature for the work of a composer who was not even 25 when he began it. The Sixth Symphony anticipates Shostakovich in the ambivalence and ambiguity of its mood – rude noises and profound thoughts follow each other in quick succession.
The earlier dacapo discs contained recordings that were among the best that the four symphonies ever received. I am slightly less enthusiastic about this release, but not by much. Schønwandt seems a little restrained in the opening movement of the First Symphony, whose tempo marking of Allegro is modified by the word orgoglioso, or "pridefully." In his old RCA Victor recording, André Previn (of all people) slashed into this music like a punk anarchist – a question more of phrasing than of tempo – and other conductors have painted a more vibrant picture of youthful exuberance than Schønwandt has here. (Strange, then, that he did so well in the Second Symphony – "The Four Temperaments" – which is so like the First in spirit.) In both works, Schønwandt's tempos are close to Herbert Blomstedt's in his Decca recordings. Eugene Ormandy, who seemed to favor these two symphonies above the others, is quicker – to good effect – on his Columbia discs, which are regarded by many as classics.
Schønwandt and his Danes are more spontaneous in the cryptic "Sinfonia semplice" – did a symphony ever deserve its subtitle less? The music seems to pick up the argument left of by the Fifth Symphony. War is over, but the fate of Man remains in doubt. So does the fate of music, if we are to judge by the second movement, a Humoresque that leaves a bitter taste in the mouth, in spite of its slapstick humor. Schønwandt resists the temptation to sentimentalize this symphony (if anything, this is a tendency of Ormandy's recording), but he is not nearly as bland as Blomstedt.
There are excellent annotations for each symphony. Armchair musicologists will appreciate the care taken here. The CD has been recorded in cooperation with Danish Radio, and the engineering is very fine.
If you purchased the first two discs in this series, you will not be disappointed with this third one. I would not, however, start here. Keep your eye on Douglas Bostock's series on the Classico label, and hope that someone will reissue the Ole Schmidt discs that last appeared on Unicorn.
Copyright © 2001, Raymond Tuttle