CD Review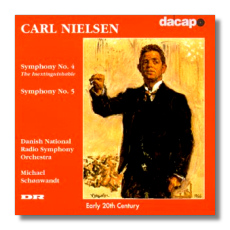 Symphonies #4 & 5
Symphony #4 "Inextinguishable"
Symphony #5
Danish National Radio Symphony Orchestra/Michael Schønwandt
DaCapo 8.224156 DDD 76m
Carl Nielsen's symphonies are doing well in the recording studios these days, with exciting cycles in progress by Schønwandt (the Second and Third Symphonies were issued a few months ago – Dacapo 8.224126) and by Douglas Bostock, whose first release was of the Second and Fifth Symphonies (Classico 296). Bostock, paired with the Royal Liverpool Philharmonic Orchestra, uses the new Carl Nielsen Edition, a point that Classico emphasizes. However, the back page of Dacapo's booklets indicate that Schønwandt is also using the Nielsen Edition, albeit with less fanfare than Bostock! (At any rate, the new edition, while valuable, has yet to produce any striking revelations about what Nielsen intended.)
Bostock is sensational in the difficult Fifth Symphony; the timing of his recording is 33:11. Schønwandt takes five minutes longer, and his is the slowest recording of this symphony that I've encountered. (I should add that I haven't seen any faster than Bostock's.) Placing the two recordings side by side shows how two radically different approaches to the same work can yield equally valid results. Bostock conducts tautly, and the symphony has rarely sounded more
melodic or more dramatic, or, for that matter, more coherent. Schønwandt's reading is more moody and grim, and although I prefer the playing of the Liverpudlians by a narrow margin on technical grounds, the Danish orchestra is the more idiomatic of the two. Schønwandt creates a feeling of terror that's psychological; Bostock is more visceral.
It is an almost irresistible temptation to play the Fourth Symphony for thrills. Conductors who do so certainly can produce a gripping effect, and one that is not necessarily unfriendly to Nielsen's intentions. At 36 minutes, Schønwandt is well within the norm for this work, but his reading is more subtle than prominent ones conducted by Karajan and Bernstein, for example. The timpani battle in the work's last section is not muted, however, and there's a lack of self-consciousness to this recording that I find appealing.
Dacapo's engineering is very fine, although the volume needs to be turned high to appreciate it. There are excellent annotations by Michael Fjeldsøe.
Copyright © 2000, Raymond Tuttle