DVD Review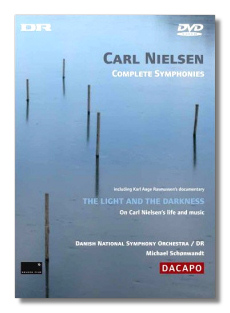 The Complete Symphonies
Symphony #1 in G minor, Op. 7 (FS 16)
Symphony #2 in B minor "The Four Temperaments", Op. 16 (FS 29)
Symphony #3 "Sinfonia espansiva", Op. 27 (FS 60)
Symphony #4 "The Inextinguishable", Op. 29 (FS 76)
Symphony #5, Op. 50 (FS 97)
Symphony #6 "Sinfonia semplice" (FS 116)
"The Light and the Darkness" – On Carl Nielsen's Life and Music (documentary by Karl Aage Rasmussen)
Danish National Symphony Orchestra – DR/Michael Schønwandt
Dacapo 2.110403-05 3DVDs 220min (symphonies) + 59min (documentary)
In packaging this set of three DVDs, Dacapo has extensively quoted from glowing reviews of Schønwandt's CDs of this repertoire: Dacapo 8.224168 (Symphonies #1 and 6), 8.224126 (Nos. 2 and 3), and 8.224156 (Nos. 4 and 5). The CDs were recorded in 1999 and 2000, however, whereas the all six performances on the DVDs were recorded live on November 2 and 4, 2000 – months, at least, after the symphony sessions were completed. Certainly there are few differences between the performances on the CDs and on the DVDs, but the latter are not lacking their portion of minor imperfections. You can't program six symphonies over two concerts and expect flawless execution from everyone involved. Schønwandt's interpretations are unexaggerated, sane, and honest. When conductors outside of Denmark started discovering Nielsen's music in the 1960s, many of their performances were more personal. Now, however, the pendulum has swung back in the other direction, and it is possible to play Nielsen's music almost as if he were an "old master." Whether it is advisable to do so is another question entirely. This conductor plays it safe. Some might want to hear a little more risk-taking.
Nevertheless, it is a treat to see these undeniably expert performances, as well as to hear them. Schønwandt looks like a modest and genial fellow, and the camera-work is flexible and free of gimmickry, unless you think that the frequent shots of the trombone players' faces reflected in the bells of their instruments are a gimmick. The sound is decent, although not as vivid as on the CDs. Oddly, there are no titles to introduce the symphonies and their individual movements, so you'll have to follow the track numbering on your DVD if you are unfamiliar with this music and want to know where you are!
The third disc is a Nielsen documentary directed by Karl Aage Rasmussen, who also is a composer. There is very little extant motion picture footage of the composer, so Rasmussen has had to tell Nielsen's story using period films, still photography, and modern footage. The documentary is neither fish nor fowl, really. Although other works are briefly discussed, the six symphonies are used as a framework on which to base the composer's biography. This is a little artificial and misleading. Furthermore, Rasmussen fixates on the difficult yet enduring marriage between the composer and the sculptress Anne Marie Carl-Nielsen. By the time the documentary was over I almost felt that I knew more about her than I did about him. Brief performance footage is interwoven with the biography. Most of it is of Schønwandt and the Danish National Symphony Orchestra, but there is a brief but tantalizing clip of Bernstein conducting the "Sinfonia Espansiva," plus older clips of (ungraciously unidentified, unfortunately) conductors and singers. Two booklets – one of them extensive – also come with these DVDs.
Nielsen's most ardent admirers will want this set, but I think more casual listeners will be satisfied with CDs – Schønwandt's, or someone else's.
Copyright © 2007, Raymond Tuttle