Related Links
Recommended Links

Site News
CD Review
The Secret Bach - Works for Clavichord
Chromatic Fantasia and Fugue in D minor BWV 903a
Adagio in G Major, BWV 968
Fugue in G minor, BWV 1000
Allemande in G minor, BWV 836
Menuets in G Major, BWV 841/843
Partite diverse sopra, '0 Gott, du frommer Gott', BWV 767
Partita in Aminor, BWV 1004 (arr Mortensen)
Christopher Hogwood, clavichords
Metronome METCD1056
No need for sound-proofing in the Bachs' home! Christopher Hogwood quotes Forkel on J.S. Bach's preference for the clavichord for private musical entertainment and general daily use, and Derek Adlam gives a vivid picture of a household full of music, with a clavichord in every room for Bach's family and students.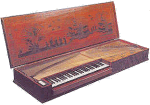 This is a profoundly interesting and revealing programme, framed by the Chromatic Fantasia and Fugue, which is familiar to clavichordists, and the great Chaconne for violin, which is not. The arrangement here of the D minor Partita, transposed down a fourth, includes 'adding as much in the necessary of harmony as he felt necessary' (Agricola, describing how J.S. Bach often played his violin works on the clavichord). It works extremely well, nobility rather than strain being at the forefront of Hogwood's magisterial account of the Ciaccona. These favourite masterpieces, and between them an Adagio and a Fugue, are given on a rich toned instrument [Hass 1761, pictured] with octave strings adding brilliance and clarity to the bass. The middle of Hogwood's sequence demonstrates two other instruments, a typical double fretted instrument of the period (Bodechtel, c.1790) and an Adlam Burnett copy of an 1807 Schmahl in the Finchcocks collection.
A valuable addition to the growing clavichord discography, presented with interesting and learned commentary about the music, most of the items having an element of 'arrangement' which was commonplace at the time. Derek Adlam discusses the clavichord in general, with descriptions and photos of the three instruments which Christopher Hogwood plays.
Copyright © 2004, Peter Grahame Woolf