Related Links
Recommended Links

Site News
CD Review
Concertos and Chamber Music, Volume 5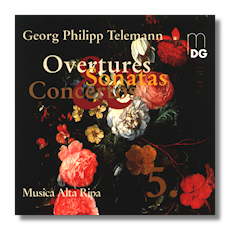 Concerto in A Major for 2 Violins, Viola & Continuo, TWV 43:A4
Sonata in D minor for Recorder, Violin & Continuo, TWV 42:d10
Ouverture in G minor for 2 Violins Solo, 2 Violins in ripieno & Continuo, TWV 55:g8
Quadro Sonata in G Major for Recorder, Oboe, Violin & Continuo, TWV 43:G6
Sonata in C Major for for 4 Violins without Continuo, TWV 40:203
Partia à 5 in E minor for Recorder & Continuo, TWV 41:e1
Musica Alta Ripa
Dabringhaus & Grimm MDG3091450-2 66m DDD
The fifth volume of Telemann's complete concertos and chamber music introduces once again instrumental compositions of various categories and utilizing various forces.
Although Telemann could not be considered a virtuoso, his diversified output reveals a composer full of imagination and craft with the six pieces on this recording all very attractive and at times, charmingly delicate.
One of Telemann's attributes was his natural gift to please all tastes and I am in no doubt that this new issue will be a joy to a wide spectrum of listeners. Musica Alta Ripa is the ideal ensemble for such repertoire and is in previous ventures for MD&G, their renditions are full of vigour and vitality. Another distinctive addition to what has proved to be an excellent cycle.
Copyright © 2007, Gerald Fenech