Related Links
Recommended Links

Site News
CD Review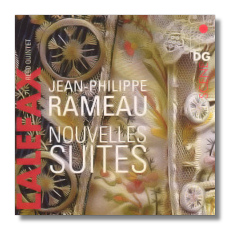 Nouvelles Suites
Arranged for Wind Instruments
Calefax Reed Quintet
Dabringhaus & Grimm MDG6191374-2 70m DDD
Jean-Philippe Rameau has remained famous not only for his exceptional compositions, but more so for his penchant to break the standard rules and open up new horizons on the musical firmament. The pieces on this disc are very particular in that they are not original Rameau, but arrangements for wind instruments of some of his harpsichord pieces.
The Suite; 'Les Rappel des Oiseaux' is a compilation taken from the 1724 collection while 'La Triomphante' finds its source in the pieces composed between 1728-1730. Both these suites are arrangements by the saxophonist Raaf Hekkema. 'Les Boreades' was put together by the bass clarinettist Jelte Althuis, who selected five orchestral works from Rameau's oeuvre and arranged them into a Suite.
'La Poule', a very short, but perhaps one of the master's best-known harpsichord works, completes this exhilarating programme. Just as one would expect from a man of refined taste, Rameau's music is full of style, grace and colour, but his practice of hiding messages in his works did not go down well with the nobility of his time. For us, it is great fun trying to decipher what is behind the notes, and we certainly have no trouble in hearing the twittering of birds in 'Le rappel' (track 12). The coquettish village girl in 'La villageoise' (track 13) is not so audible, and one has to use his imagination to get to the core of Rameau's intentions.
The Calefax Reed Quintet (all Dutch musicians) are maybe one of the most dazzling wind ensembles operating at present. The sound world they have created has a unique magic sparkle that is able to give these baroque gems an added lustre and flair. A technically flawless musical adventure that is brilliantly recorded and which deserves an unreserved recommendation.
Copyright © 2006, Gerald Fenech