Related Links
Recommended Links

Site News
SACD Review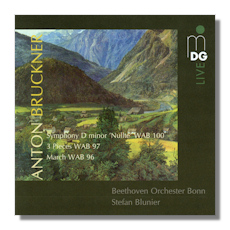 Study Symphony
Symphony in D minor "Nullte", WAB 100
March, WAB 96
Three Pieces, WAB 97
Beethoven Orchestra Bonn/Stefan Blunier
Dabringhaus & Grimm MDG9371673-6 63m DDD 2SACDs 114m Hybrid Multichannel
This is a new recording of Bruckner's ubiquitously numbered "0" symphony which is a fine work in its own right. Bernard Haitink included the work in his cycle of symphonies for Philips and Sir Georg Solti also recorded a fine interpretation with the Chicago Symphony Orchestra some years back.
Stefan Blunier and his Bonn Orchestra are quite the real deal, having recorded various romantic symphonic works for the German label, MD&G. They play with an unabashed know-how of the music lending brazen authority to the loud fanfares which Bruckner integrates into the symphony. The opening Allegro is particularly enthusing while the Finale is also taken at a rather brisk pace with great momentum. All in all this is a pleasing performance of this symphony which is well worth investigating.
The disc also includes some fine rarities in the form of a March in D minor and Three Pieces lasting around eight minutes. These are winningly done by the Beethoven Orchestra Bonn and are almost worth the price of the disc alone. An excellent recording and fastidiously detailed notes make up a package which is surely well worth investigating on all counts.
Copyright © 2011, Gerald Fenech