CD Review
Carl Reinecke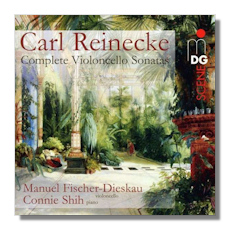 Complete Violoncello Sonatas
Sonata for Cello & Piano #1 in A minor, Op. 42
Sonata for Cello & Piano #2 in D Major, Op. 89
Sonata for Cello & Piano #3 in G Major, Op. 238
Manuel Fischer-Dieskau, cello
Connie Shih, piano
Dabringhaus & Grimm MDG6031661-2 63min
Carl Reinecke (1824-1910) is one of those composers whose music, although overshadowed by such contemporary greats as Schumann, Mendelssohn and Brahms, was also highly praised by these same geniuses. As a young student, the composer had made a pilgrimage to Leipzig with his first cello sonata in his suitcase, with the intention of introducing himself to Schumann and Mendelssohn. From this eventful endeavour, Reinecke not only became associated with Mendelssohn's music for the rest of his life, but was also appointed professor of music at the Leipzig Conservatory and conductor of the Gewandhaus Orchestra from 1860 to 1895. Indeed, by the end of his life the composer had not only become fully enmeshed in the Leipzig tradition but was also considered by many as a mainstay of its musical life. Musical experts agree that all four composers qualify as important links in uniting the different and varied traditions of this great cultural centre.
The three Cello Sonatas have only recently been discovered. The Op. 42 was published in 1855, but was probably written in the 1840's when Reinecke visited the city for the first time and Schumann was at the height of his popularity. The great man lavished great praise on the work, and not surprisingly, there are many similarities to Schumann's style, such as the syncopations, the overlapping formal divisions and the delightfully delayed tonic resolutions.
The Second Sonata, which dates from 1867, is a more mature work and amalgamates significant Schumannesque and Mendelsshonian elements. There is also a hint of Brahms in the latter pages, making it a sort of homage to all three of Reinecke's mentors.
Composed in 1897, the same year of Brahms's death, the Third Sonata is dedicated to the great man himself. Beautifully structured and full of melancholic moments reflecting the composer's grief at his countryman's demise, the piece was favourably received and attracted great attention. Indeed, many of Reinecke's admirers called it the "pearl of the not too plentiful cello repertoire."
The son of Dietrich Fisher-Dieskau, Manuel, and Connie Shih give exhilarating performances replete with enthusiastic fervor and great technical acumen, and one cannot but help admiring the young cellist's unflinching support of this unjustly neglected music. Sound, notes and presentation are in the best MD&G tradition. A highly commendable and most welcome addition to the Reinecke discography.
Copyright © 2011, Gerald Fenech