Related Links
Recommended Links

Site News
CD Review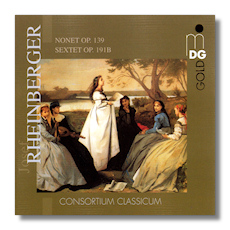 Chamber Music
Sextet, Op. 191b
Nonet, Op. 139
Consortium Classicum
Dabringhaus & Grimm MDG3011453-2 68m DDD
Chamber compositions comprising several instruments an in an expanded scale do not have a genre tradition like the string quartet or piano trio, so this release is timely in more ways than one. First of all, it gives the listener the opportunity to savour the immense craft behind such pieces, a tribute to a fine composer but rather underrated like Rheinberger. Secondly, there is the sheer joy that such splendidly written music can arouse.
Joseph Gabriel Rheinberger (1839-1901) had written many chamber works during his youth, so when he came to composing the two pieces on this disc, he was certainly well equipped to tackle the challenges that lay ahead. The Nonet of 1884-85 is not a totally original work, but a reworking of an Octet composed some 20 years earlier. It is in the traditional four movements, and Rheinberger skillfully employs the myriad of instrumental possibilities to create a piece brimming with memorable tunes and varied instrumental colours.
The Sextet dates from 1899 and is, in all probability, the composer's last work. It is very similar to the Nonet in form and style, and also involves a reworking of a previous piece; the Piano Trio in F, Op. 191a of a year earlier. Although the composer was passing through hard times in his last years, the music hardly reveals that; it is fully of joy and merriment which is aptly caught by the excellent Consortium Classicum who are to be commended for their astonishing virtuosity and well nigh definitive interpretations.
Copyright © 2008, Gerald Fenech