Related Links
Recommended Links

Site News
CD Review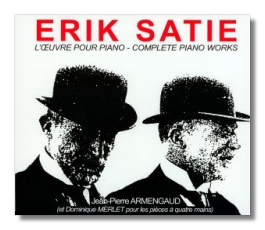 Complete Piano Works
Jean-Pierre Armengaud, piano
Dominique Merlet, piano
Mandala MAN4975/79
How thrilling to have nearly Satie's entire piano works in five volumes! How disappointing to hear Jean-Pierre Armengaud's sporadic renditions.
To its credit, the set sports an inventive organizational scheme. The discs are grouped thematically, such as "Famous Pieces" and "First Recordings," and "Surrrealistic and Childish Pieces." I enjoyed hearing Allegro and Petite Sonate for the first time. Like their subject, the liner notes are quirky and inconsistent. Sometimes they're entertaining with cute drawings and strange photographs, other times they're annoyingly impressionistic.
Most of this set is destined for my archives. I just can't get excited about Armengaud's style. It's too colorless, too gray. To be fair, he wears several shades of gray: the impassive slate gray of his Pieces Froids and the almost-not-there gray of his Quatres Préludes. Perhaps he took Satie's famous comment about "furniture music" too literally. Not just an impish composer, the composer produced pieces of sinuous subtlety. Armengaud has trouble finding it. In Surrealistic and Childish Pieces, he should be filling the fissures of Peccadilles Importunes with moody pastels instead of slow and fast, loud and soft. In some pieces, his playing displays technical ineptitude. In the finale to Jack-in-the-Box, Armengaud has trouble negotiating the tricky tempo changes, while Aldo Ciccolini (EMI Seraphim CDR 73705 ) blithely dances through them with his spirited rendition. Armengaud's rubato is virtually absent in his Pieces froides:Trois danses de travers, while Pascal Roge (London 421 713-2) consumes this piece as if nibbling a Napoleon on the Champs Elysées. Armengaud's interpretations pick up in Volume Five, Complete Works for Piano Duet. With Merlet sparking him along, we hear a spirited and variegated Parade and the whimsically off-center Trois Morceaux en Forme de Poire. The two produce a charming La Belle Excentrique, prancing vulgarly across the stage, especially in the two Grande ritournelles. Sometimes they even convey Satie's infatuation for ragtime. Too bad this Frenchman doesn't inject more élan into Satie's works.
Copyright © 2001, Peter Bates