CD Review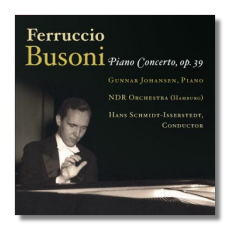 Piano Concerto, Op. 39
Gunnar Johansen, piano
NDR Orchestra and Men's Chorus (Hamburg)/Hans Schmidt-Isserstedt
Music & Arts CD-1163 AAD monaural 68:25
Ferruccio Busoni's boa constrictor of a piano concerto is seldom performed and recorded. It is about 75 minutes long, makes considerable demands on the pianist, on the orchestra, and on the audience members, and it requires – on top of everything else – a men's chorus singing an "Hymn to Allah" in the final movement.
John Ogdon's famous recording of this concerto is out of print now, but knowing EMI Classics' habits, it will be reissued one of these days. At any rate, this new release by Music & Arts has much to recommend it, in spite of faded (but certainly not unpleasant) monaural sound. Gunnar Johansen (not to be confused with Grant Johannesen) was a prolific recording artist, but mostly for his own label (Artist Direct) which has not had much of a presence, if any, during the CD era. Johansen studied with Egon Petri (also with Edwin Fischer and Frederic Lamond) who in turn had been a protégé of Busoni himself. There even was a brief meeting between Busoni and Johansen. In the absence of recordings of this concerto by Petri (let alone by Busoni), Johansen's interpretation may be as close as we can get to an "authentic" interpretation. (But then again, maybe not.)
Be that as it may, this recording – professionally recorded (but not commercially released, apparently) during performances on January 15 and 16, 1956 – transformed my opinion about this concerto. Until now, I thought that this was a rather boring work. Johansen and Schmidt-Isserstedt make it interesting, like a long novel by Thomas Mann that you don't want to put down. The present performers shape the concerto's architecture well, and what seem like longueurs elsewhere don't seem tiresome at all here. Schmidt-Isserstedt's tempos are on the fast side – more then three minutes faster than Christoph von Dohnányi's with Garrick Ohlsson on Telarc, for example – and the lack of excessive reverence does the concerto a world of good. Busoni was a renaissance man whose interest and skill in almost everything musical was unparalleled during his lifetime. More than other pianist, I think, Johansen has captured Busoni's diversity and even his self-contradictions in playing that is alternately brilliant and grave, giddy and profound, and warm and bracing. This is one of those performances where everything seems to come together. The NDR Orchestra is not the best, but they don't take away from the importance of this recording. So, for admirers of the Busoni concerto, this is a must-have, and it could stimulate new interest in Johansen, who has been something of a cult figure up until now.
Copyright © 2005, Raymond Tuttle