Related Links
Recommended Links

Site News
CD Review
Composers at the Piano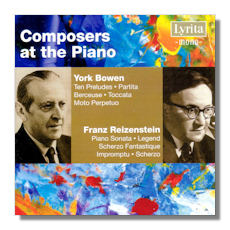 York Bowen:
10 Preludes, Op. 102
Partita, Op. 156
Berceuse, Op. 83
Moto perpetuo, Op. 39
Toccata in A minor, Op. 155
Franz Reizenstein:
Piano sonata in B, Op. 19
Legend, Op. 24
Scherzo Fantastique, Op. 26
Impromptu, Op. 14
Scherzo in A, Op. 21
York Bowen, piano
Franz Reizenstein, piano
Lyrita REAM2105 2CDs mono 94m ADD
York Bowen (1884-1961) and Franz Reizenstein (1911-1968) have never been on the forefront of the British musical establishment, although in the last decade York Bowen's stock has started to rise. Reizenstein's name still languishes on the periphery, despite his many commendable pieces, so this double CD set is welcome indeed, if only to push further the musical legacy of these two artists.
Bowen was a Londoner through and through, and he had a very successful career as a performer. In addition to the piano, he mastered various other instruments, including horn and viola, but it was the former which dominated his output of around 160 works.
Reizenstein was born in Nuremberg and started studying composition with Hindemith. With the onset of Hitler's regime, he fled to England in 1934. Vaughan Williams and Solomon were two influential teachers; the latter leading him to a career as concert pianist. Although initially treated as an alien, his talents were later much appreciated and by the time of his death he was appointed piano professor both at the Royal Academy of Music and the Royal Manchester College of Music. His piano writing is regarded by many as his finest achievement.
This invaluable issue (despite the mono sound) should give much pleasure both in the musical and interpretative levels. Impressive keyboard works meticulously played by their own creators.
Copyright © 2008 by Gerald Fenech