Blu-ray Review
20th-Century French Music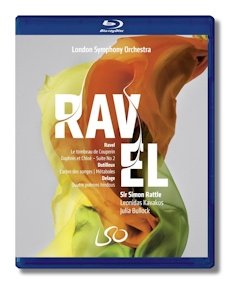 Le tombeau de Couperin
Daphnis et Chloé – Suite #2
Henri Dutilleux:
L'arbre des songes *
Maurice Delage: Quatre poèmes hindous
* Leonidas Kavakos, violin
** Julia Bullock, soprano
London Symphony Orchestra/Sir Simon Rattle
Live concert January 16, 2016 Barbican Hall, London, UK
Bonus Feature -; Interviews with performers
LSO Blu-ray & DVD 3038 1:35:35 LPCM Stereo
This is a very interesting live concert, its theme or raison d'être being 20th-century French music, in a mixture of the popular and little known. The two Ravel works, which frame the other three on the program, are widely performed not only in France but throughout the world. They are generally light and exhibit Ravel at his most appealing and, especially in Le Tombeau de Couperin, witty. This latter work, from 1919, is an orchestration of four of the six pieces originally written for piano in 1914-17. Ravel had a penchant for turning piano works into orchestral ones as he had done with Ma Mère l'Oye, Valses nobles et sentimentales, Une Barque sur l'océan, Alborada del gracioso, and others of his. But arguably his most famous endeavor in this realm was that of Mussorgsky's Pictures at an Exhibition.
Ravel had a knack for orchestration and could make music that sounds perfectly natural for the piano (the Mussorgsky Pictures wouldn't fit into that category) sound perfectly natural for the orchestra, in some cases bettering the piano counterpart. Anyway, Sir Simon Rattle and his London players deliver a spirited account of the Couperin, delightfully pointing up the work's playfulness and magic, its chipper character and its subtle graciousness. The second Daphnis Suite is a more ethereal and lush work and once again Rattle and company get to the heart of the piece, this time with phrasing of a more relaxed, more flowing, more sostenuto character that allows mists to form and dissolve and for emotions to surge and recede with elegance. Even in the faster music, like the concluding Bacchanale, Rattle avoids any tendency to give the music a crispness or jagged quality, opting wisely for a more genteel almost suave approach. This is a work Rattle knows well, having led many performances of it, including just four years earlier in London at a Proms concert with the Berlin Philharmonic, then his orchestra. Fine performances and fine music then for half this program, but what of the other fare here?
Greek violinist and conductor Leonidas Kavakos is the soloist in Henri Dutilleux's L'arbre des songes (The Tree of Dreams), a work dating to 1979-85 that most concertgoers and record collectors may find a bit of a challenge upon first hearing. It's arguably a violin concerto in four movements that are played continuously and connected by three interludes. Its opening might remind one more than vaguely of the Schoenberg Violin Concerto's, but its music recalls Stravinsky more often than Schoenberg. Yet, it has plentiful lyrical moments that defy association with either of those composers or with others that might come to mind. Repeated listenings allow the music's depth and subtle beauty to emerge from what might initially seem a dense fog. Kavakos does very well in delivering the difficult solo part and Rattle draws a very committed performance from the orchestra. Isaac Stern, who premiered the work with Lorin Maazel and Orchestre National de France, made a fine recording of it with them, issued in 1987. It featured similar tempos, just slightly on the slower side. This new effort by Kavakos and Rattle may not surpass that older one, but it's also quite excellent and, not surprisingly, features better sound.
The other Duttileux work on the program, though it doesn't come next on the CD but as the penultimate offering, is Métaboles (1959-64). To me, it may well be better than L'arbre des songes, not least because in many ways it offers a glimpse of a style that Stravinsky, had he not turned to serial music (unwisely, I'm convinced), might well have evolved to in the 1950s or 1960s. I'm not suggesting that the work is strongly beholden to Stravinsky, though I might be able to make a good case that it is in certain sections: try the opening, for instance, which truly does sound like a page out of Stravinsky. It's not a long work and it has a somewhat exotic character in its scoring, especially in the writing for its wide range of percussion instruments. While this work was certainly not a particularly progressive or avant garde piece in its time, it might still be a bit challenging for some listeners today. Again, Rattle and his players are in fine form here.
The Maurice Delage Quatre poèmes hindous (Four Hindu Poems), which come midway in the concert, have an exotic character too, but they are also mystical creations and appropriately subdued. Scored for soprano and a chamber ensemble consisting of two flutes, piccolo, oboe, English horn, two clarinets, bass clarinet, harp, and string quartet, the work is quite advanced for its time (1912). The four songs (Madras – A beauty; Lahore – A single fir tree; Bénarès – The birth of Buddha; Jeypur – If you think of her) last about ten minutes, with the second being the longest and most engaging. It features some wordless singing and humming midway through that is quite beguiling. Beguiling also is the young soprano Julia Bullock, who sings so beautifully and with a total grasp on Delage's subtle and exotic expressive manner. The chamber players perform well under the knowing hand of Sir Simon.
The camera work, picture quality and sound reproduction are all first rate, both on the Blu-ray and DVD discs that are included in this package. There is a bonus feature that offers some interesting interviews with Rattle, Kavakos, and Ms. Bullock, as well as Principal Flute of the LSO Adam Walker and Principal Oboe Olivier Stankiewicz. While you may be able to find somewhat better performances of a few of these pieces, the whole concert is quite an engaging event. I can strongly recommend this, especially to those with an interest in French music.
Copyright © 2018, Robert Cummings