Related Links
Recommended Links

Site News
CD Review
Snapshots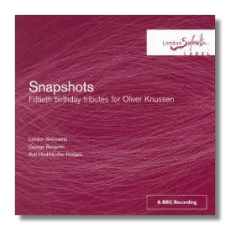 50th Birthday Tributes for Oliver Knussen
Louis Andriessen: Very Sharp Trumpet Sonata
Charles Wuorinen: Fifty Fifty
Alexander Goehr: only two notes for olly (the other five for later)
Detlev Glanert: Dancing Landscape
Elliott Carter: Au Quai
Hans Werner Henze: Olly on the Shore
Augusta Read Thomas: Light the First Light of Evening
Robert Zuidam: I suppose a Fugue is out of the Question
Colin Matthews: Flourish, with fireflies
Julian Anderson: Quasi una Passacaglia
Mark-Anthony Turnage: Snapshots
George Benjamin: Olicantus
Magnus Lindberg: Bubo bubo
Rolf Hind & Nicolas Hodges, piano
London Sinfonietta/George Benjamin
London Sinfonietta SINFCD1-2004 41' 41"
Own labels have become crucial challenges to the heartless accountancy which determines what the large record companies decide not to record and, so painfully for collectors, what to delete.
London Sinfonietta will have been central to followers of new music worldwide for nearly four decades and Oliver Knussen as one of their key conductors and composers for several of them. This very personal and affectionate 50th birthday tribute is a concentrated introduction to a baker's dozen of accomplished and original composers who have been championed by LS and OK (Elliot Carter, in a pithy little duo, uses Olly's initials for his 3 minute Au Quai !).
Superbly played by the LS under George Benjamin, with solo and duo piano items interposed (Rolf Hind and colleagues), impeccably recorded live by the BBC at Knussen's birthday concert in June 2002, this LS launch CD is a propitious newcomer and more must follow.
Production and documentation are totally comprehensive, with composer and performer biographies, and everyone listed. The thirteen specially commissioned pieces and birthday gifts last only 42 event-filled minutes, but absolutely no matter; these Snapshots may be miniature occasional pieces, but each is characteristic of its composer and the disc is worth re-hearing until you know them all. Purchase at £11.50p from www.londonsinfonietta.org.uk/cds
Copyright © 2004, Peter Grahame Woolf