Related Links
Recommended Links

Site News
CD Review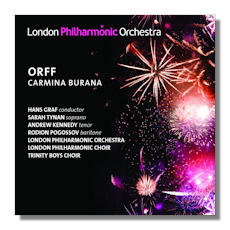 Carmina Burana
Sarah Tynan, soprano
Andrew Kennedy, tenor
Rodion Pogossov, baritone
Trinity Boys' Choir
London Philharmonic Orchestra & Choir/Hans Graf
London Philharmonic LPO-0076
I'm not egotistical enough to believe anything I say has any effect on conductor Hans Graf, but my concert review from earlier this year in Detroit probably did little to endear me to his family and friends. This new release from the London Philharmonic's own label finds Graf at the helm of some huge forces, and he happily is on much better form here. Now that the question of quality is out of the way, the question of necessity creeps in. After all, this popular work hardly lacks for excellent performances and recordings. Well-captured, played, and sung, this disc deserves consideration if you love the work.
Critics and listeners alike enjoy bashing Orff as a legitimate one-trick pony, and Carmina Burana isn't the most inventive or even quality choral work out there. But having just performed it on stage at Detroit's historic Orchestra Hall – and attended a separate performance on behalf of Classical Net – I can say the piece is an experience any way you slice it. Since it does have some dead spots and lots of repetition, commitment is key on the part of the performers. The London Philharmonic Choir offers singing of exceptional vigor and clarity, allowing you to hear all the details of the ancient poetry. Credit the producers for capturing everyone so well. Such is the nature of this work that the orchestra plays a small role, but it's a role full of color and excitement. The choral forces never swamp the orchestral contributions, and that's all to the good. Similarly, the small parts that require the Trinity Boys' Choir are lovely; English treble singing is legendary with good reason.
The three vocal soloists sing well; if they don't eclipse the great artists of yesteryear, nobody really buys Carmina for the solo lines anyways. Hans Graf doesn't really engage in any extremes of tempo, but manages to keep things moving along and galvanize his forces to give all they can. I like his careful attention to dynamics and to what the composer actually wrote. While this is a piece that can certainly handle artistic license, I have no problem with conductors willing to observe the composer's wishes and simply let his or her forces do the talking. What the performance ultimately lacks is the thrill value that most people want. Everything is just a little too restrained, a bit too cultured. The scenes in the tavern are telling; the singing is so good that you wish there was more zest. Still, the audience goes nuts, and Graf deserves full credit for eschewing bombast and allowing the music to speak for itself. It's your call.
Copyright © 2014, Brian Wigman