Related Links
Recommended Links

Site News
CD Review
A Leroy Anderson Christmas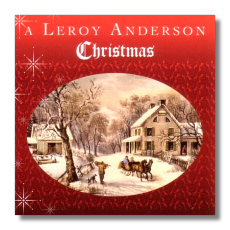 Sleigh Ride
A Christmas Festival *
Suite of Carols for Brass Choir
Suite of Carols for String Orchestra
Suite of Carols for Woodwind Ensemble
Leroy Anderson and his Orchestra
* Boston Pops Orchestra/Arthur Fiedler
Decca 60249-86381-3 50m ADD
This fantastic CD is definitely one of the buys of the season and resurrects one of the most beautiful recordings of the Christmas period ever, the lovely Christmas Festival conducted by the prolific Arthur Fiedler, a very welcome reissue.
However the real beauties on disc must be the three suites of carols for strings, brass and woodwind, each bringing their own particular characteristics to carols such as 'I Saw Three Ships' or the subtle 'Away in a Manger'. There are also rare items such as 'O Sanctissima' and 'Pastures A Belen' which are rarely heard these days.
The recordings have their own fair share of background hiss but the sound is immediate and upfront and no one should really be bothering about anything except putting the CD in the player and listening away to their heart's content. A Merry Christmas to All!
Copyright © 2007, Gerald Fenech