CD Review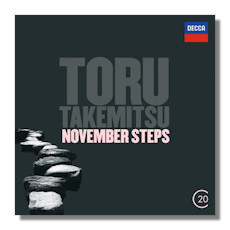 November Steps (1967) *+
Eclipse (1966) *
A String Around Autumn (1989) **+
Corona (1962, "London Version") ***
* Kinshi Tsuruta, biwa
* Katsuya Yokoyama, shakuhachi
** Nobuko Imai, viola
*** Roger Woodward, pianos, organ, harpsichord
+ Saito Kinen Orchestra/Seiji Ozawa
Decca Classics 20C 4787434
The later works of Tōru Takemitsu probably get more attention than his earlier ones, which are generally considered more "Japanese" in nature. Save for A String Around Autumn (from 1989), this program is all early Takemitsu, and half the disc showcases traditional Japanese instruments and sounds. Decca's "20C" series rightfully showcases these innovative and exceptionally crafted works, neatly and thinly packaged for your convenience.
In November Steps, the biwa (a short-necked lute) and shakuhachi (an end-blown bamboo flute) take center stage. Ozawa and his excellent orchestra have little to do except provide a sparse backdrop, but they are unchallenged in this music all the same. As for the soloists, they are probably the definitive ones, as they've recorded this music since these particular versions were released. Both here and in Eclipse, both players are evocative and haunting, not to mention beautifully recorded. What makes these works so effective is Tōru Takemitsu's refusal to overdo anything; he understands the strengths and limitations of these instruments, and he understands his own. Thus, despite being very modern pieces (and the 60s gave us all kinds of junk), these pieces retain a very traditional feel. There is mystery here, along with the simplicity and elegance that many of us think of when discussing Japanese culture. But even more importantly, there is a clear compositional voice and sense of purpose, one which would remain with the composer even as his style shifted.
And speaking of shifting styles, A String Around Autumn puts us in a richer, denser sound world. Essentially a viola concerto, the piece pays homage to the composer's love of French impressionists, especially Debussy and Messiaen (later compositions would go as far as to quote La Mer). Compared to the minimal scoring for November Steps, the concerto allows the full range of the Saito Kinen Orchestra to emerge. And there is arguably no better conductor of this music than Seiji Ozawa. Nobuko Imai is nothing short of marvelous here. There are so few pieces for viola and orchestra that are even worth considering, and this has to be one of the more beautiful out there.
Finally, the weirdest work is unquestionably Corona, a piece for multiple keyboards that was a collaborative project between the composer and graphic designer Kohei Sugiura. The notes point out that there is no traditional notation. Rather, each section of the piece is a specific discursive study. It sounds confusing, and it is. Also confusing is the claim that this is the "London Version". That's fine, but what are the other ones? Let us assume the novice listener (for which this, and most midline and budget issues are designed) is not an expert on the performing editions of Tōru Takemitsu. I'm certainly not, so I would appreciate more than a half paragraph on what the work means. My quibbling aside, those who are willing to try the work will find an interesting experience. Going from the concerto to this utterly baffling 22-minute percussion extravaganza is completely jarring, as are the long periods of silence within the piece. Still, it doesn't quite sound like anybody else, and Woodward (who plays everything, using dubbed effects to create the final product) is clearly in control. It's a strange way to end a strange program. But it's a great program all the same, and it's good to see Decca include this composer in its remembrance of great 20th-Century music.
Copyright © 2014, Brian Wigman