Related Links
Recommended Links

Site News
CD Review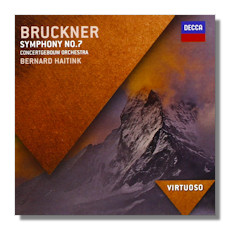 Symphony #7 "Lyric"
Royal Concertgebouw Orchestra/Bernard Haitink
Decca 4785690 67:31
Most conductors do their best work early in their career; any remakes are inferior (as a gross generalization). Bernard Haitink has certainly made enough remakes to prove and disprove this theory, in a way that is doubtless very hard to follow. This budget issue is a fine one, but the conductor would go on to record this work at least twice more. I hear that his later Concertgebouw version is a real winner – though I've not heard it – and I'm very impressed by his Chicago version on CSO Resound. However, this is what we get, so let's take a look.
Certainly the playing of the Concertgebouw is nothing short of world-class. Unfortunately, the aural picture is less pleasing. Climaxes feel unimpressive, and the boldly assertive brass playing of this orchestra is less warm than it usually is. You figure that the remake was – then Philips – way of saying "We weren't entirely satisfied, so we're trying again." Mind you, this is still a perfectly acceptable reading, despite the somewhat lackluster sound. Haitink is one of those conductors who benefits from a remake or two, simply because he can be so boring on his first or second efforts. And yet, this can all backfire horribly. Consider his Mahler; there are a couple billion Haitink issues on Phillips and Decca, more if you add his exciting live Christmas Eve concerts. Then there's live stuff on independent labels….and you truly couldn't get me to care very much, because it's all so confusing. His Bruckner is the same; which issue is which, and why should you care?
All of this comes into play because nobody at Universal is going to label this "Haitink's first, and least impressive Bruckner 7" and you wouldn't ask them to. But you do wish that even budget series would be clearer about what you're getting and why. In any event, the conductor's Bruckner hasn't been the easiest to find lately, so if the project appeals, I can recommend it accordingly. Haitink conducts very well, and you really can't complain about the beauty on display. There's just better Bruckner out there, and from these same artists.
Copyright © 2014, Brian Wigman