CD Review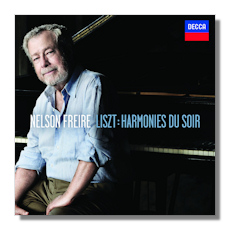 Harmonies du soir
Waldesrauschen (Zwei Konzertetüden, S. 145 #1)
Sonetto 104 del Petrarca (Années de pèlerinage, Deuxième année: Italie, S. 161 #5)
Valse oubliée in F Sharp Major, S. 215 #1
Ballade #2 in B minor, S. 171
Au lac de Wallenstadt (Années de pèlerinage, Première année: Suisse, S. 160 #2)
Hungarian Rhapsody #3 in B Flat Major, S. 244 #3
Six Consolations, S. 172
Andante con moto
Poco più mosso
Lento placido
Quasi adagio
Andantino
Allegretto sempre cantabile
Harmonies du soir (Douze Études d'exécution transcendante, S. 139 #11)
Nelson Freire, piano
Decca 4782728 DDD
With his new CD appropriately titled "Harmonies du soir" Nelson Freire brings a magnificent homage to Franz Liszt's bicentenary. In a smart and beautifully recorded recital the Brazilian pianist browses Liszt's career and highlights with impeccable style various sides of the composer's multifaceted output. Founded on a spotless technique, Freire's playing is characterized by elegance, clarity and warmth. He finds a stunning array of colors and moods, while his spontaneous approach ensures that we hear even the more familiar pieces of this handpicked program with fresh ears. There is no way to suspect his Liszt of bombast or showiness and even if some of the music can grow pretty stormy, Freire never forces the issue but always places sensibility before outward glitter. It is Liszt seen by a mature artist and it is compelling from start to end.
Nowhere more so than in the longest piece of this recital, the challenging Ballade #2 in B minor, performed in a most beguiling manner. Even if Liszt confronts the listener with diverse, often extreme emotions along the way, Freire guarantees nothing is presented in an overblown or distorted fashion. His fluent dynamic shaping, as well as the clarity and precision of his pianism are demonstrated to superb effect here. Even in the most note-saturated passages the complex textures remain perfectly audible.
The two included fragments from the Années de Pèlerinage books – Au Lac de Wallenstadt from Switzerland and Sonetto 104 del Petrarca from Italy – makes one hope that Freire will one day record these cycles completely. Au Lac de Wallenstadt is again a model of textural clarity and by its brisker-than-many tempo sings with an unsuspected sense of melancholy, while the Sonetto glows even more from Freire's tonal beauty and impromptu approach. The same qualities turn a scintillating Waldesrauschen into an unforgettably poetic and visionary opener of this disc (its translucent textures wouldn't be lost on Maurice Ravel). Also looking toward the future is the first Valse Oubliée, the latest piece in this recital, which by Freire's agitated approach instantly demands attention.
The third and one of the least-played Hungarian Rhapsodies becomes a feast of exotic colors and perfumes. Yet it are arguably the 6 Consolations which form the highlight of this CD. These miniature gems sound utterly refined and poetic in Freire's hands, and surely nobody will be able to resist the gently meditative #1 or the sorrowful lyricism of the Chopin-like #3.
The Harmonies du soir, #11 from the Douze Etudes d'exécution transcendante, is the ideal work to conclude this recital. Leaving us unaware of any technical demands, Freire seduces with his velvety opening chords before unleashing a powerful, galvanizing middle section, only to leave the listener gasping and regretting when the music slowly fades away.
This is a tremendous disc. Highly recommended.
Copyright © 2011, Marc Haegeman