Related Links
Recommended Links

Site News
CD Review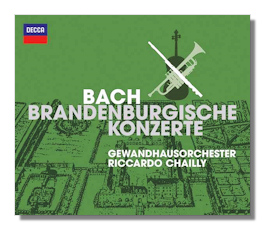 Brandenburg Concertos
Concerto #1 in F Major, BWV 1046
Concerto #2 in F Major, BWV 1047
Concerto #3 in G Major, BWV 1048
Concerto #4 in G Major, BWV 1049
Concerto #5 in D Major, BWV 1050
Concerto #6 in B Flat Major, BWV 1051
Gewandhaus Orchestra/Riccardo Chailly
Decca Classics 4782191 2CDs
Most major orchestras of full size don't tackle these works anymore; they leave that to chamber orchestras and the period folk. Stokowski was one of the last major conductors to use a modern orchestra for these pieces, and of course those recordings are an acquired taste. Prior to his "period-influenced" stage that he's somewhat stuck in now, Riccardo Chailly was one of the most sensitive and reliable conductors alive. These live 2007 Decca recordings feature outstanding playing from the Gewandhaus, and big-hearted warmth all around.
Pay no attention to the quote on the box that says the Gewandhaus has "Bach in its bones", unless "in its bones" refers to something that has died. Neither Blomstedt nor Masur were Bach conductors, and in fact there is little evidence that the Gewandhaus has worked tirelessly to maintain some kind of age-old Bach tradition. As for the actual results, they are excellent. Golden-toned brass and dancing woodwinds ideally compliment the first-class soloists in the orchestra. Nothing feels heavy, though the rather relaxed rhythms in places will puzzle those used to hearing their Brandenburg sets with razor-sharp accents. Chailly – not unlike Benjamin Britten on his own Decca set – coaxes very beautiful sounds without drowning in them. In my view, Chailly correctly uses the harpsichord instead of a piano, and the same goes for the other solo instruments the works are scored for. How large the forces are is unclear, simply because Decca has a nasty habit (dating back to when I was born) about saying next to nothing about the performances at hand. That's a pity, since it's something worth knowing for an unusual project like this, and the notes are otherwise excellent and informative.
For listeners like myself, who have never fully responded to the period-instrument movement, I imagine this is a set worth owning. Despite judicious decisions regarding instrumentation, I have a feeling that by the same token, listeners accustomed to today's modern practices may find these readings too "big". In the final analysis, there's Bach for every taste, but these well-recorded and conducted performances successfully take us back in time.
Copyright © 2015, Brian Wigman