CD Review
John Rutter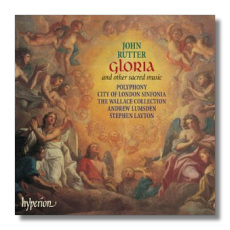 Gloria
Gloria
Come down, O Love divine
Lord, make me an instrument of Thy peace
To everything there is a season
I my Best-Beloved's am
Praise the Lord, O my soul
I will lift up mine eyes
As the bridegroom to his chosen
A Clare Benediction
The Lord is my light and my salvation
Go forth into the world
Thy perfect love
Te Deum
Andrew Lumsden, organ
Polyphony
The Wallace Collection
The City of London Sinfonia/Stephen Layton
Hyperion CDA67259 77:51

Distant Land
Distant Land
5 Meditations
Suite for Strings
Suite Antique
Beatles Concerto
Andrew Nicholson, flute
John Birch, harpsichord
Peter Rostal & Paul Schaefer, piano duo
Royal Philharmonic Orchestra/John Rutter
Decca 476124-2 78:22
Summary for the Busy Executive: Minor canon (small guns).
John Rutter has essentially hit the classical composer's equivalent of the Powerball lottery. In an age where very few want to pay for new serious art, he has made a very nice living. More power to him. I'm happy somebody's beaten the odds.
Rutter is a thorough professional and approaches his work professionally. He has a huge catalogue of saleable stuff – including a ton of Christmas-carol arrangements, easy church anthems, and so on. He's written and continues to write so much, he's become practically a cottage industry. Much of it strikes me as routine, mindlessly pretty. Very little holds on to me. Worse, a lot of it reminds me of Jonathan Winters improvising a Rodgers & Hammerstein musical. I feel that anybody could have written it, if not for artistic conscience. Rutter to me has been far too easy on his considerable talent.
Of course, one can find exceptions to this, because he does have genuine talent. However, Rutter serious almost always stands in the shadows of his models. His Gloria apes Walton's late masterpiece, and pretty anemically, too. His "Wildwood Carol" feeds on the genius of Holst and Vaughan Williams, without contributing much Rutter. For me, his best work is his Requiem, a combination of Walton and, in the lyric bits, Fauré. I understand the Fauré and the Walton. Many have recognized Rutter as one of the world's scholarly experts on the Fauré Requiem and, of course, Rutter routinely goes to Walton when he needs High Significance. But the Rutter Requiem goes beyond mimicry to something personal. No other work of Rutter's comes close to that benchmark.
Of the choral music disc, I care for only the Gloria, Come down, O Love divine, the very elegant, choral-savvy and Howells-like I my Best-Beloved's am, Thy perfect love (which owes more than a little to Warlock's "Balulalow"), and the Te Deum. The rest of it seems to me elevator music for the church. I like best about the Gloria its scoring – choir, organ, brass, and modest percussion – placing it within the reach of a middle-class congregation. The Te Deum, like the Gloria, borrows from Walton and (also like the Gloria) pales in a direct comparison. It also pales in comparison to the examples by Vaughan Williams and especially by Britten. In fact, one can say that of every piece on the disc which has a competing setting. Rutter's setting of Psalm 121 is pretty small beer, next to Kodály's, for example. Nevertheless, there's real composition going on in the Te Deum, not merely a quick-get-it-done-and-settle in pieces like To everything there is a season.
The instrumental CD, Distant Land, confirms both the modesty of Rutter's talent and that he is essentially a vocal composer. Practically everything on this disc is based on vocal music, either by Rutter or by Lennon, McCartney, Harrison, or Anon. The Five Meditations, for example, merely orchestrate five Rutter choral pieces, like "What sweeter music," familiar to most listeners from its inclusion in a Volvo commercial. If you know the choral pieces, you have little reason to listen to their instrumental knock-offs. Rutter doesn't even try to give these pieces symphonic reach. The Suite for Strings arranges traditional folk songs, much like the Holst Suite #2 for Military Band or the St. Paul's Suite for strings. The string writing is neatly efficient. Despite the occasional appropriation from Holst, the score's overall effect remains more like Victor Young's score to The Quiet Man – not much more than "nice," and with nary a touch to make you really notice or care. Suite Antique stands as the exception to the vocal rule, with no recycling in sight. It's pretty enough, in a pops-ish way, and I liked the last movement, "Rondeau," best. But unlike many light masterpieces, it gives me no reason to listen to it again.
For me, the Beatles Concerto, for two pianos and orchestra, constitutes far and away the best work on the program and the only real reason to buy the disc. Rutter doesn't make things easy on the soloists, and the thing sounds great, at least. As opposed to the Five Meditations, Rutter tries to put the tunes into the mold of the Big Boppin' Romantic Concerto (Rachmaninoff Division), without ever achieving a true symphonic synthesis. It may be in part a matter of recognizing too many of the constituent cells even divorced from the immediate context of their songs. Still, it's a step up from the Boston Pops arrangements of these tunes, although light years behind the wit and dash of Joshua Rifkin's Baroque Beatles Book or even some of the King's Singers and Swingle Singers settings.
The performers are all first-rate. Layton and Polyphony sound as good as I've ever heard them. Rutter long ago added expert conductor to his resumé. The sound is yummy on both discs.
Copyright © 2005, Steve Schwartz