Related Links
Recommended Links

Site News
CD Review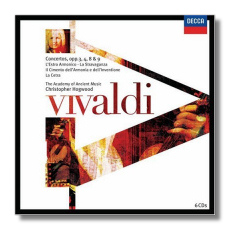 Violin Concertos
12 Concertos, Op. 3 "L'estro armonico"
Concerto for 4 Violins in D Major, RV 549 1,2,3,4
Concerto for 2 Violins & Cello in G minor, RV 578 1,2,9
Concerto for Violin in G Major, RV 310 1
Concerto for 4 Violins in E minor, RV 550 1,2,3,4
Concerto for 2 Violins in A Major, RV 519 2,4
Concerto for Violin in A minor, RV 356 4
Concerto for 4 Violins & Cello in F Major, RV 567 1,2,3,4,9
Concerto for 2 Violins in A minor, RV 522 1,3
Concerto for Violin in D Major, RV 230 3
Concerto for 4 Violins & Cello in B minor, RV 580 1,2,3,4,9
Concerto for 2 Violins & Cello in D minor, RV 565 3,4,9
Concerto for Violin in E Major, RV 265 2
12 Concertos, Op. 4 "La stravaganza" 1
Concerto for Violin in B Flat Major, RV 383a
Concerto for Violin in E minor, RV 279
Concerto for Violin in G Major, RV 301
Concerto for Violin in A minor, RV 357
Concerto for Violin in A Major, RV 347
Concerto for Violin in G minor, RV 316a
Concerto for Violin in C Major, RV 185
Concerto for Violin in D minor, RV 249
Concerto for Violin in F Major, RV 284
Concerto for Violin in C minor, RV 196
Concerto for Violin in D Major, RV 204
Concerto for Violin in G Major, RV 298
12 Concertos, Op. 8 "Il cimento dell'armonia e dell'inventione"
Concerto for Violin in E Major, RV 269 "Primavera" 6
Concerto for Violin in G minor, RV 315 "L'estate" 3
Concerto for Violin in F Major, RV 293 "L'autunno" 5
Concerto for Violin in F minor, RV 297 "L'inverno" 4
Concerto for Violin in E Flat Major, RV 253 "La tempesta di mare" 3
Concerto for Violin in C Major, RV 180 "Il piacere" 5
Concerto for Violin in D minor, RV 242 "Per Pisendel" 4
Concerto for Violin in G minor, RV 332 1
Concerto for Oboe in D minor, RV 454 8
Concerto for Violin in B Flat Major, RV 362 "La caccia" 6
Concerto for Violin in D Major, RV 210 1
Concerto for Oboe in C Major, RV 449 8
12 Violin Concertos, Op. 9 "La cetra" 7
Concerto for Violin in C Major, RV 181a
Concerto for Violin in A Major, RV 345
Concerto for Violin in G minor, RV 334
Concerto for Violin in E Major, RV 263a
Concerto for Violin in A minor, RV 358
Concerto for Violin in A Major, RV 348
Concerto for Violin in B Flat Major, RV 359
Concerto for Violin in D minor, RV 238
Concerto for 2 Violins in B Flat Major, RV 530 4,7
Concerto for Violin in G Major, RV 300
Concerto for Violin in C minor, RV 198a
Concerto for Violin in B minor, RV 391
1 Monica Huggett, violin
2 Elizabeth Wilcock, violin
3 John Holloway, violin
4 Catherine Mackintosh, violin
5 Alison Bury, violin
6 Christopher Hirons, violin
7 Simon Standage, violin
8 Michel Piguet, oboe
9 Susan Sheppard, cello
Academy of Ancient Music/Christopher Hogwood
Decca 4757693 6CDs 419m ADD/DDD
This six-CD box set brings together four major concerto sets composed by Antonio Vivaldi including the most famous Il Cimento dell'Armonia e l'Invenzione awarded pride of place.
The eminently reliable Academy of Ancient Music play their period instruments with consummate zest under their charismatic conductor Christopher Hogwood and these sets date back to the early digital cum late analogue days when the fabled 'L'Oiseau-Lyre' label still produced those lavishly packaged boxes with their distinctive white covers and the wonderful paintings.
Hogwood's Vivaldi has always been at the top of any music lover's wish list and listening afresh to these newly mastered performances proves eminently instructive especially in the first few concertos from Op. 3, 'L'Estro Armonico' or the 'Four Seasons' themselves with Monica Hugget and Alison Bury on what can only be termed as brilliant form. Simon Standage takes up the bow for Op. 9, 'La Cetra', he is no less magnificent in his interpretation.
Decca's recordings are a nostalgic trip to venues that are no more such as Kingsway Hall, St. Barnabas Church and Wathamstow Assembly Hall with a variety of producers such as Peter Wadland and classic engineers such as Stan Goodall and John Dunkerly. Michael Talbot's admirably cryptic yet detailed essay provides the listener with all that needs to be known on these concertos. At such a price and with space saving presentation, you really cannot go wrong if you want your essential collection of Vivaldi recordings.
Copyright © 2007, Gerald Fenech