Related Links
Recommended Links

Site News
DVD Review
Nights in the Gardens of Spain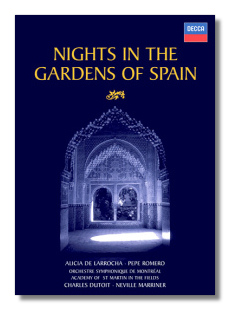 Nights in the Gardens of Spain
Master Peter's Puppet Show
Joaquín Rodrigo: Concierto de Aranjuez
Alicia de Larrocha, piano
Pepé Romero, guitar
Monte Carlo Opera Orchestra/Charles Dutoit
Academy of St. Martin-in-the-Fields/Neville Marriner
Decca DVD 0743152 82m Dolby Digital
One of many favourite pastimes is certainly that of travelling abroad although there are still quite a few who shun this exciting and educational venture. This DVD will serve the latter in good stead, as apart from the exotic and picturesque musical pieces it embodies, the viewer is transported to the magical city of Granada, in the majestic Alhambra Gardens and the sumptuous Palace of Aranjuez which serve as a majestic backdrop to De Falla's 'Nights in the Gardens of Spain' and Rodrigo's overtly famous 'Aranjuez' concerto.
Director Larry Weinstein captures pianist Alicia De Larrocha and guitarist Pepé Romero in compelling performances and he brilliantly enmeshes these magnificent pieces with seductive sequences of Spain's most captivating locations. Weinstein also includes some rare footage of Rodrigo and his wife Victoria.
This disc also features De Falla's rarely staged 'Master Peter's Puppet Show', a short but sparkling little gem revealing the composer's command of dramatic brevity and shimmering orchestral colours. Thankfully, the booklet has the sung Spanish texts translated into English, German and French, something that other labels often seem to ignore. So, a valuable audio visual package which also serves as an ideal trip to Spain in the bargain!
Copyright © 2007, Gerald Fenech